HCMC has set high determination to develop into a smart city which does need a complete infrastructure system. Despite strong development in recent years, the city's infrastructures are weak and short of connectivity.

At a seminar on smart city by Sai Gon Giai Phong Newspaper yesterday, associate professor and Dr. Nguyen Minh Hoa, said that some countries have developed smart cities in some important norms with the target of applying information technology (IT) to bring convenience for citizens in some key fields.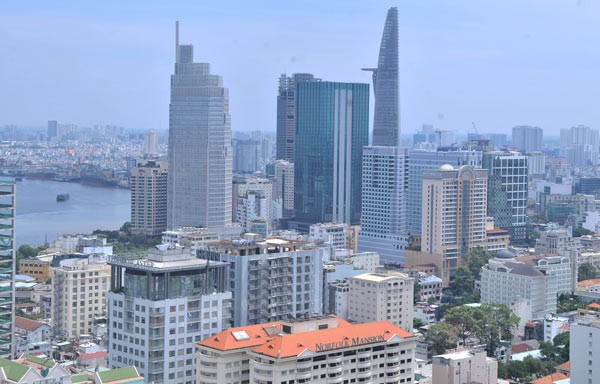 A corner of downtown HCMC (Photo: SGGP)
For instance, India focuses on water, air, security and urban environment while Singapore targets housing, health, environment and public services.
In Vietnam, Mr. Hoa said that the country should not implement the smart city project by movement and be cautious to prevent from falling into technology traps of investment brokers.
The smart city needs integrated infrastructures of many types of services and a sufficient and correct data warehouse able to apply for each field. Wanting to be a smart city, HCMC must have smart citizens who can use smartphones, he added.
Sharing the same view, lawyer Truong Trong Nghia stressed that to succeed in the project, first of all HCMC must have a complete basic infrastructure system.
About the intellectual standards of the people, he said that the intellectual standards of officials and cadres is no less important and it may be driving force or hindrance.
The Singaporean Government finances people older than 60 to learn technology and has assistance policies so that every citizen can buy a smart device.
Technical and technological infrastructures must develop to a certain high level to progress towards smart city besides strong enough finance and a sufficient legal basis.
According to Mr. Nghia, financial resource is a big matter when developing into smart city, citing Da Nang has spent up to VND120 billion (US$5.3 million) to install 1,600 cameras. Smart city will need much more than that.
Some experts at the forum said that with the current ability, HCMC should invest technology in some urgent fields or pilot the project in some areas before developing over larger scale.
Weak, unconnected infrastructure

Mr. Le Minh Triet, director of Saigon Tunnel Management Center under the Department of Transport admitted the city's weak infrastructure amid increasing population resulting in traffic jam and flooding.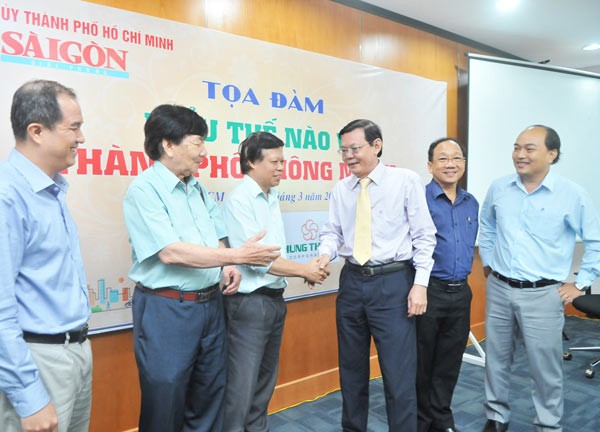 Mr. Nguyen Tan Phong (3rd, R), editor-in-chief of SGGP Newspaper, shakes hands with experts at a seminar on smart city on March 24 (Photo: SGGP)
Dr. Nguyen Huu Nguyen from Vietnam Urban Planning and Development Association compares building smart city on weak infrastructure with wearing slippers and necktie and he advised HCMC leaders to put their heart, knowledge and scrutiny in choosing applications instead of following companies' marketing because planning has left the city a system of infrastructure which is difficult to be smart.
"The city has been obesity in population, causing danger of coronary in traffic and flooding like diabetes," said Mr. Triet. Therefore, synchronous developed technical infrastructure is the matter of survival of smart city.
Delegates also warned of unconnected infrastructure. The latest example is camera installation in District 5 where wards do in their own ways causing the district unable to connect the system together.
Another instance is the unconnected housing information among divisions at the Department of Construction.
Mr. Lam Dinh Tung, deputy head of Urban Development Division under the department said that projection officials have seemed to swim in a jumble. Getting planning information for a project from traffic, land use, population to urban development must go through many agencies because their databases have not linked up together.
Mr. Nguyen Van Nhuan, deputy director of Data Center under the Department of Natural Resources and Environment, says that every agency had database but each place has a different kind of system.
They have been unable to connect or share information because of incompatible connection, neither common format nor official standards. It has been difficult for an agency to use data of another.
Hence before heading towards smart city, the city must publicize and connect data citywide, he said.
Dr. Du Phuoc Tan, head of the Urban Management of the HCMC Institute for Development Studies, proposed the city to have a frame infrastructure for agencies to build their data warehouses to integrate and put them online.
The question raised for HCMC is building smart city to solve which problems.
Experts say that it should solve urgent issues such as traffic jam, flooding, pollution and food safety and hygiene. IT application in public services aims to better serve businesses and citizens towards a purer and more efficient government, better living environment and facilitating businesses' creativeness.
In conclusion, they says that technology is just the foundation of smart city, the essence is human being. Building smart city aims at better connecting among the Government, businesses and citizens. Of these, the two later subjects' attendance is very significant.