Social investment capital for basic construction in Ho Chi Minh City in the first four months this year went double over the same period last year with VND26.8 trillion (US$1.24 billion), said director of the Department of Planning and Investment Thai Van Re on Thursday.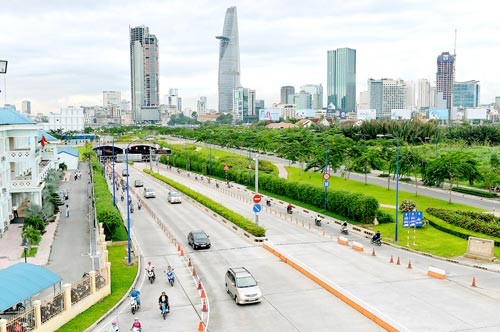 HCMC infrastructure has been developed to better serve residents (Photo: SGGP)
The social investment capital increased 4.5 percent this year and only 2.1 percent last year, he said.
Reporting at a meeting on socioeconomic conditions chaired by the city People's Committee chairman Le Hoang Quan, Mr. Re said that the total import turnover went up 15.5 percent to touch US$10.2 billion. This is a good signal showing the growing production demand of local businesses.
Among the most imported items were milk and milk products seeing the import turnover up 13.7 percent. Garment and textile and leather and shoe materials increased 7.3 percent, cloth 1.8 percent, steel 28.4 percent, medicines 4.6 percent and plastics 1.4 percent.
Export turnover hit US$9.3 billion, down 3.4 percent over a year ago.
Credit liability was recorded at VND1,112 trillion (US$51.51 billion) by the end of April, a year on year increase of nearly 16 percent. This indicated that production has returned eventful, he said.
Director of the Department of Finance Dao Thi Lan Huong said that budget revenue hit VND98,147 billion (US$4.55 billion) in the first four months, up 9.63 percent over the same period last year. Of these, economic sector contributed VND41,209 billion (US$1.91 billion), up 9.21 percent.
The budget revenue exceeded estimates. Foreign invested and private economic sectors posted high growth rates, she added.
A representative of the HCMC Institute for Development Studies said that production and consumption of steel and milk products still depended on imports as the turnover highly hiked.
Chairman Quan said that HCMC would foster the exploitation of local market, develop distribution system to rural and remote areas and continue to seek and expand new export markets.
In addition, the city will inspect food safety, focusing on functional foods, bottled water, and company and school canteens.