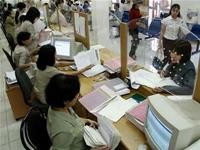 Ho Chi Minh City is seeking to reduce paperwork
The Ho Chi Minh City Party chief has asked city authorities to make more efforts, ensuring transparency in solving issues in the southern hub to further accelerate administrative reforms.
"Bureaucracy, red tape, and work harassments still exist in our city, causing negative impacts in society and the business environment," city Party chief Le Thanh Hai said at a recent meeting with the metropolis' other leaders.
He asked the Ho Chi Minh City People's Committee to promptly re-consider administrative procedures to reject inappropriate ones and unnecessary paperwork.
Another must for the committee is to ensure regular inspections on simplifying administrative procedures.
Mr. Hai asked governmental agencies in the city to publicize their telephone numbers and hotlines to get the public's feedback about such simplification and denunciations of work harassments by officials.
By November 1, governmental agencies must list all administrative procedures at their offices together with the names of officials in charge and time needed to complete the procedures. Officials in charge of working with the public must wear name tags, which clarify their positions.
Related article
Administrative Procedures Must Be Listed Publicly