Mr. Le Hoang Quan, Chairman of the HCMC People's Committee, has directed that four traditional communes and towns in Cu Chi District should no longer be cleared in the building of the Southwestern Residential Complex; instead, they are to be kept and adjusted to preserve Vietnamese cultural features.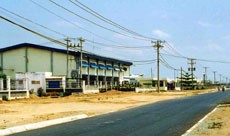 An industrial zone in Cu Chi District of HCMC
He emphasized that the project has to be planned perfectly in order to effectively serve the moving of residents from the inner city and attract residents from many classes, not only unskilled laborers.

The Project Management Unit must deal with the issue of environmental pollution from rubbish dumps in Phuoc Hiep and Tan Phu Trung Industrial Zone. They must also cooperate with the relevant departments to ensure that no polluting factories be built in this zone.

The city authorities have asked the Architecture Department to cooperate with Project Management Unit to ensure that the project is complete by the end of 2007 and ready for investment in 2008.