Complicated procedures for tax reimbursement and the wasteful use of public properties were hot issues discussed on Ho Chi Minh City Television's "Speak and Act" dialogue program on January 3.
"It is not simple to process tax reimbursements, as we must check that the tax has been paid with the banks. It is very hard to get it done promptly, especially for large tax refund applications," said deputy head of the city Tax Department, Nguyen Trong Hanh, in response to queries on the show about cumbersome VAT refund procedures.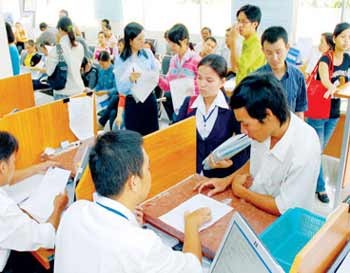 HCMC Tax Department staff members instruct taxpayers on how to make a tax declaration. On the "Speak and Act" program on HCM City Television on January 3, deputy director of the department Nguyen Trong Hanh promised to cut half of the formalities related to VAT refunds (Photo: SGGP)
Speak and Act is a program on HTV's Channel 9 that features discussions between government officials and questioners.
Last year, the department received about 4,000 such applications, of which more than 3,000 applications were handled, with the amount of refunded tax accounting for 35 percent of total VAT collection, Hanh said.
Recently, during an inspection at the city's department, Finance Ministry inspectors warned the department about tardy tax reimbursements, but the department defended themselves saying that some of the reimbursements were as much as VND100 billion (US$5.4 million) and required time consuming checks.
Hanh promised that the tax department would cut half of the VAT reimbursement processes this year.
Since 2004, the department has cut one-third of the formalities related to tax collection and payment and encouraged taxpayers to make e-declarations of tax on its website, he said.
The agency also offer consultancy on tax issues for taxpayers at its office, he said.
Wasteful use of State-owned premises
More than 24,000 square meters of public land were leased out illegally by groups and corporations last year, according to a survey conducted by the Speak and Act program.
2009 also saw the city authorities revoke 605,969 square meters of property and land from the 6 million square meters of land managed and used by State groups and corporations, the survey said.
Nguyen Minh Hoang, a questioner, said, "When leases expire, tenants should stop renting the land out to others."
He warned that the waste of public property was a big problem in the city.
"An inspection in District 8, Binh Tan District, of the city's Food Company, and Warehouse and Yard Company revealed they were wasting half of the area that was allocated to them."
The Food Company has been assigned 307 premises with a total area of more than 300,000 square meters but it only used 195 premises or less than 100,000 square meters, he said.
In response, the representative of the city Trade Department said these figures were not official and confirmed that the department and the city People's Committee have asked the Finance Ministry to help revoke the rights to some of the unused premises.
Deputy director of the city Finance Department, Tran Nam Trang, said the city authorities have proposed for the Finance Ministry to take back 40 premises that has been used inefficiently or left empty.
Dr Tran Du Lich blamed such wastefulness on a lack of decisive action by agencies in charge of public property.