A ghastly accident occurred on Friday when a speeding car crashed into 12 waiting motorcycles at a red light crossing in District 10 of Ho Chi Minh City at 4:30pm, killing one and injuring many others.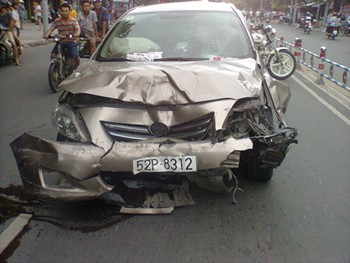 The smashed bumper of the speeding car that caused the accident (Photo: SGGP)
The accident occurred at the red light intersection of Su Van Hanh and Ly Thai To Streets in District 10. According to witnesses, the four seater car was driving at high speed on Ly Thai To Street towards District 5. It lost control and rammed into two cars travelling in the same direction and went on to collide straight into the waiting motorcycles at the red light crossing.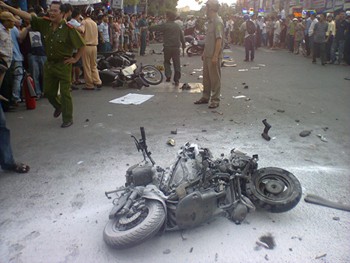 The strong impact from the speeding car caused one motorcycle to go up in flames (Photo: SGGP)
Police officials are investigating the cause of the accident.
Later in the evening, Tang Chi Thuong, director of Children Hospital No.1, disclosed the name of the driver of the ill-fated car as 42-year-old Tran Anh Huy, who is a doctor at the same hospital.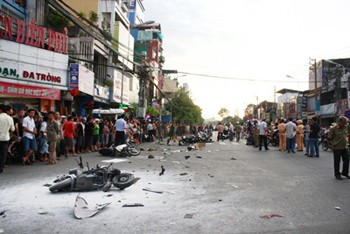 The scene of the accident (Photo: SGGP)
According to Mr. Thuong, Huy's car brakes failed and he was unable to stop the car, resulting in the deadly accident.