The 32nd Spring Flower Festival was inaugurated at the Tao Dan Cultural Park in District 1 of Ho Chi Minh City on Wednesday, offering a colourful array of various kinds of flowers, ornamental plants, fish species and fossils and stones from different regions.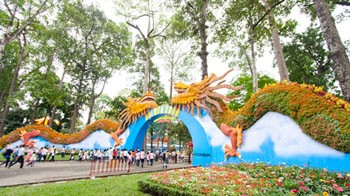 Entrance to the Spring Flower Festival viewed from Truong Dinh Street (Photo: Tuoi Tre)
The festival will run until January 28 or the 6th day of the Lunar New Year and will present a spectacular display of 8,000 items that will include, besides flowers and ornamental plants, a vast variety of fish species and quarried stones.
The most outstanding items will be a Vietnamese map made from 4,000 quartz stones, the Truong Sa (Spratly) Islands Landmark created with fresh flowers and 100 year old fossils taken from Truong Sa Islands.
There will also be two dragons shaped from 15,000 flower pots and nearly one ton of golden everlasting daisies, two pairs of rare exotic 'Arapaima fish' originally from the Amazon River in South America.
The festival will also present a collection of 70 carnivorous plants from many countries, a 2x2m pink quartz stone and a dragon shaped chalcedony stone.
Visitors will have a chance to view Japanese aqua-landscaping, ornamental stones and orchids from Singapore.
Speaking at the inaugural ceremony, Hua Ngoc Thuan, deputy chairman of the HCMC People's Committee praised the festival's organization committee and the skillful artisans for creating such a spectacular and colourful display which was sure to delight visitors during the festive Tet Lunar New Year holidays.