The State President Nguyen Minh Triet, along with members of the National Assembly including Tran Du Lich and Nguyen Dang Trung, met with voters in District 3 of Ho Chi Minh City on April 5.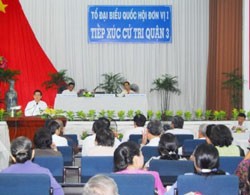 A view of the meeting between President Nguyen Minh Triet and voters in District 3 in Ho Chi Minh City on April 5 (Photo: VOH)
Voters expressed their appreciation of all the achievements made during the 12th National Assembly. They also hoped that in the 13th term, the NA would continue its reforms and enhance performance in law making, supervision, interpellation and decision-making process of important issues in the country.
The voters also proposed several measures for anti-corruption, economic development, international integration and social welfare.
On behalf of the NA members, President Triet thanked the voters for their consideration and opinions on issues pertaining to the country.
He hoped that the city voters would share the burden with the Government to overcome obstacles in 2011 to promote socioeconomic development.
On the same day, other NA members including Nguyen Van Be, Nguyen Huy Can, Nguyen Viet Dung and the HCMC People's Council representatives including Nguyen Thanh Rum and Tran Quang Phuong also met with nearly 300 voters in Tan Binh District.
At the meeting, officials reported results of the NA meeting and of the city People's Council.
The Tan Binh District voters recorded achievements and contributed their opinions on issues relating to people's daily lives.
They mentioned the weaknesses in the anti-corruption regulations that did not meet with expectations. For instance, in the Vinashin case, residents expressed dissatisfaction as the group lost thousand billion dongs without anyone held responsible or reproachable.
Another concern expressed was the skyrocketing prices of several commodities, especially gas and petrol that was affecting people's daily lives. The voters suggested that NA, the Government and relevant authorities must take better measures to stabilize prices.
On the same day, NA members of the 12th term including Huynh Dam, Huynh Thanh Dat and Nguyen Van Be held a meeting with voters in Districts 11 and Tan Phu. Here voters also proposed to the State to take tougher measures to stabilize prices that have rocketed in electricity, petrol and water leading to a surge in other commodities as well.
Related article:
State President meets voters in HCM City