State President Truong Tan Sang joined people in Ward 5 of District 3 in Ho Chi Minh City on the morning of November 11 to celebrate National Unity Day and also distributed gifts to poor families.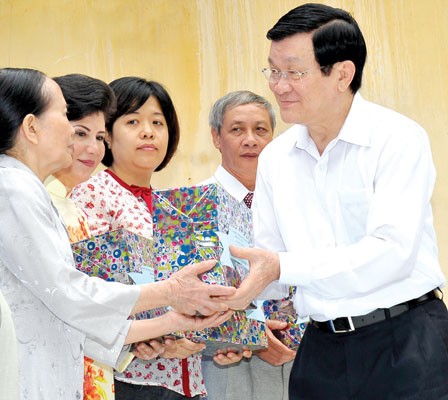 President Truong Tan Sang (R) presents gifts to families who received the title of 'cultural families' (Photo: Viet Dung SGGP)
Unity Day is observed on the occasion of the founding of the Vietnam Fatherland Front (November 18), which marked its 82nd year this year (1930-2012).
La Kien Cuong, head of the team that campaigns for the movement "All people unite to build a new life in residential areas" of quarter 3, reported the good news to the President, that now in this neighborhood there is no household whose income is less than VND12 million per annum. Besides, local people all supported the 'Fund for Truong Sa (Spratly) Islands' which has reached VND14.9 million; contributed to traffic safety, environmental hygiene, and struggle against social evils.
Nguyen Van Tong, 85, said, 'I, like many other people am very frustrated that corruption has not stopped. I ask the Party and the State to be determined to wipe out corrupt officials, factionalists, and all who covering each other's evils and form groups against public interests."
Talking with local residents, President Sang recalled late President Ho Chi Minh's thoughts on national unity and suggested local authorities and people to follow his thinking.
He valued local people's activities in response to movements launched by the Vietnam Fatherland Front and the local administrations.
He asked the local VFF chapter to think of creative and effective methods to persuade more people from all walks of life to care for the beneficiaries of State policies, poor families and uphold national pride and patriotism.
On this occasion, President Sang presented gifts to two poor households in the Ward.