On May 3, to celebrate President Ho Chi Minh's birthday on the 19th of this month and in line with the "Study and follow Ho Chi Minh's moral examples" movement, Ho Chi Minh City opened the competition of "Story-Telling About Uncle Ho".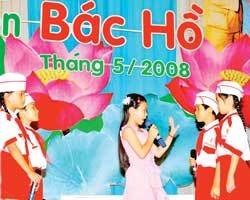 Children taking part in the contest
Five hundred students in primary and secondary schools and over 100 children are expected to participate in this competition.
In the competition, children tell the stories of Uncle Ho's morality, his simple and thrifty lifestyle, his patriotism, and his integrity as well as the president's love towards children.
Excellent competitors will be chosen for the final exam to be held on May 18 at the HCMC Children's House.