Heavy rains together with whirlwinds over the past several days have uprooted many old trees in Ho Chi Minh City, causing great concern among residents. This situation has created a need to improve the care of trees, particularly old ones.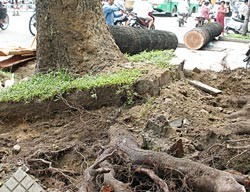 A tree uprooted on Ba Thang Hai St. on Aug 8
Since the start of the rainy season, more than 250 tree branches have broken off. Of these, 50 were involved in old trees. So far this season, 110 trees uprooted, including four old trees, according to the city's Public Park & Greenery Company.
On various streets, trees are likely to fall at any time. One such tree is at the entrance of city's Police Headquarters and another is at the crossing of Nguyen Van Cu and Tran Hung Dao streets in District 1.
This situation has made many residents concerned about danger of falling trees. A house owner at 207 Nguyen Kim, District 10 who lives near an old tree, said, "Living near such an ancient tree is like living with a potential threat. We have asked the authorities many times to cut down or prune the tree, but no one has responded so far."
 
When old trees fall, it can have serious consequences. But relevant agencies do not pay adequate attention to them. In addition, the procedure for dealing with these trees is often complicated and time-consuming.
Old trees that stand alone are more likely to be at risk of falling or uprooting than those in groups, experts said.
Ancient trees require special care. Each of them needs to be numbered for effective management and treatment, said Dr. Tran Quang Diep, of the HCMC University of Agriculture and Forestry.
The taking care of trees should be done with specific machinery and equipment, not just by watching them, Dr. Diep said. If there is no improvement made in this field, there will be more fallen and uprooted trees. The risk of falling trees can be minimized through the means that are currently available, he said.