As per the People's Committee in Ho Chi Minh City's decision on subsidized commodity program of essential items in the period 2015-2016, the city will include 21 groups of medicines and 550 other items into the program.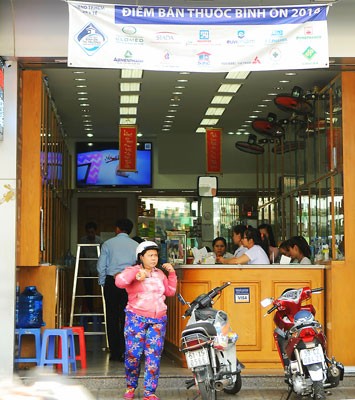 All program participant stores must place banners and list of prices so that customers can see (PHoto: SGGP)
Ms. Pham Khanh Phong Lan , deputy head of the municipal Department of Health, said that after the city authority has issued decision to add medicine items into the subsidized commodity program, the Department has liaised with the Department of Industry and Trade to carry out the program.

The Department has sent its document to medical clinics and urged doctors to prescribe domestically-made medications which are cold medicines, pain killers, antibiotics, anti-inflammatory, anti-allergy medicines, medications for headache, cough, osteoarthritis, diarrhea, eye drops, bronchial asthma, drugs made from herbs.

Thanks to the guidelines of authorities, the sale figures keep creeping up. Total turnover of drug sales in 2014 reached VND104 billion (US$ 4,817,280), 1.3-fold increase compared to in 2013. Enterprises said that their turnover of subsidized medicines increased by 30 percent.

The rate of subsidized drugs in hospitals in cities also surged by 20-30 percent while it leaped by 30-40 percent in districts. This makes payment for home-made drugs hiked over 45 – 65 percent in medical clinics in cities and districts respectively.

Prices of drugs included in the program are lower by 5-10 percent compared to their same kind in the market. Program drugs are manufactured at drug manufacturers' compliance with the WHO-GMP (Good Manufacturing Practice). All program stores must show banner and list the selling price in front of the stores.