Nguyen Thi Hong, deputy chairwoman of the Ho Chi Minh City People's Committee on January 16 visited four stores in the city selling price subsidized goods, to check product supplies, pricing and purchasing power, with many traders believing that prior to Tet, prices may decline.
Subsidized goods abundant in city markets
Goods have never been this abundant and plentiful like they have been this year, nor have prices remained so stable.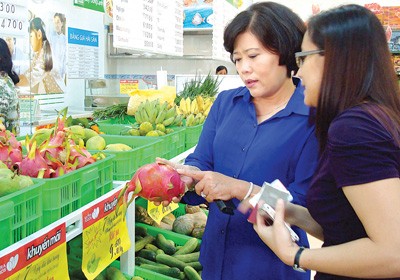 Nguyen Thi Hong, deputy chairwoman of HCMC People's Committee, checks goods at Satrafood store in Tan Binh District (Photo:SGGP)
Although there are only five days left for Tet Lunar New Year, consumer buying has increased by 15 percent as compared to the previous year.
Reporting to Mrs. Hong, Tran Anh Vu, deputy director of the Food MTV Company, said that purchasing power has tripled compared to normal days. Most products in Foocomart stores have maintained a steady price, he added.
Vu said that by joining the price subsidized program, under which prices remain stable in all retail supermarkets and convenience stores, Foocomart is at an advantage in attracting more consumers. Presently it is also running a promotional program so that price subsidized goods can be offered at further discount of VND1,000.
Foocomart has also started to decrease prices of beer and soft drinks. The company is also selling 6,000 tons of its stock of 20,000 tons of rice under the price subsidized program, Vu said.
Price subsidized goods are hugely popular at the Satrafood store run by the Saigon Trading Corporation in Tan Binh District.
Ngo Viet Hung, Satra's manager, said that their store is considering decreasing prices of some products to attract more customers.
Vinatex Mart is decreasing 50 percent on all products to attract more customers.
Seaspimex Special Aquatic Products Company joined the city's price subsidized program for the first time with five seafood products. Do Trong Vinh, director general of Seasprimex, said that this is the second year the company is selling products in the domestic market, offering about 50 products.
The company turnover in the domestic market increased from VND50 billion in 2010 to VND80 billion in 2011.
 
City has enough goods for Tet this year
Speaking to Sai Gon Giai Phong Newspaper, Mrs. Hong said that after checking prices of various goods, their quality and stock reserves, customers can count on enough goods for Tet this year.
She said the program has really become an important tool in the city to regulate prices effectively and practically. The program has proved its value in managing prices of essential goods at reasonable rates.
She added that thanks to the program, the city has been able to restrict and control speculation and unexpected price hikes, prevent counterfeit and poor-quality goods and stabilize the market, especially during Tet New Year.
She said that the city needs to keep a close watch on the market and monitor prices more tightly to ensure that price subsidized goods will always be 10 percent lower than market prices.