More than 35,000 young volunteers in Ho Chi Minh City will take part in this year's community service campaign.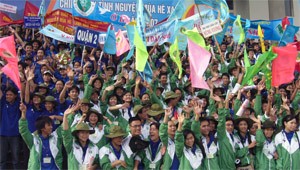 Young volunteers of the Green Summer Campaign 2007 take part the opening ceremony at HCMC's Phu Tho Stadium on July 15  

The Green Summer Campaign 2007, as it is called, was launched in HCMC on Sunday by the municipal Youth Union, drawing the participation of 35,000 young volunteers from local universities and colleges and foreign volunteers from the US, France and Japan.

They will visit 322 districts, communes and towns in HCMC, 10 cities and provinces in the Central Highlands, the Mekong Delta and the Southeast of Viet Nam after which they will also visit Laos and Cambodia.

During the month-long campaign, young volunteers will help build 100 compassionate houses for disadvantaged families and teach foreign languages and basic IT skills to local workers. They will also visit seven drug rehabilitation centers.

They will hold blood-drives, disperse free treatment and medicine to poor patients, upgrade roads, and help protect the environment in rural areas.

Twenty-two young American and Vietnamese volunteers visited southern Ben Tre province on the launch day of the campaign, they helped local people repair schools and build compassionate houses as part of their voluntary activities.