SGGP reporters, together with a team of young employees from a fashion house in Ho Chi Minh City, recently made a charity trip to Ban Long Commune, Chau Thanh District, Tien Giang Province, which saw fierce war during the US invasion, to donate gifts to teachers of a junior high school.

Specialty makes changes to the lives of local farmers

During the wartime, Ban Long Commune was a free-bombing zone, where US jet fighters and artillery were allowed to blast at will.

The fertile land was ploughed up by bombs and bullets.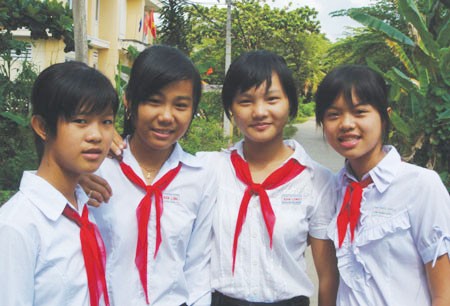 Students of the newly-built Ban Long Junior High Schools (Photo: SGGP)
After the war, it took local people many years to clear the land of mines to bring it back to life.

Almost every family in the commune had at least one member who was a martyr. Many had two or three, some even had four.

No matter how they tried, residents of Ban Long were pursued by poverty because the disastrous consequences of the war.

Not until late 2008 did many locals begin to escape poverty when Lo Ren Vinh Kim Star Apple, a specialty of the commune, was granted a GlobalGAP (Global Good Agricultural Practices) certificate, paving the way for the export of the fruit to European countries in early 2009.

Many farmers in Ban Long have shifted from growing rice to Star Apples to gain more profits, which not only help them live improved lives but also allow them to invest in the education of their children.
The Government and people have taken up a collection to transform the thatched-roof classrooms into newly-built brick schools that meet national standards.

Ho Chi Minh City's fashion house shares in the responsibility

On 19 September, together with SGGP reporters, a team of young employees from Bolzano, a fashion house in the city, traveled to the commune to pay a visit to the Ban Long Junior High School, where they donated 100 presents to management staff and teachers of the school.

Inside each gift was a shirt, a pair of trousers and an envelope containing VND100,000.

Although humble, the gifts have brought enormous happiness to the teachers, who have devoted their lives to providing the light of knowledge to many younger generations living in the poor commune.

Nguyen Thi Kinh, a math teacher said, "It's a kind of great encouragement. We are happy because we understand that what we are doing for the kids in this area has been recognized and shared by the city people."

Looking at the smiles of the teachers, Pham Van Hai, manager of the Sales Department of Bolzano said, "We are pleased that we can do something for the teachers. We are impressed by their dedication to the underprivileged students. We hope that we can do something more for them in the future."

For five years now, Bolzano has considered charity activities as one of its social responsibilities.

Every year, the company organizes trips to remote areas to give rice and build houses for poor people.

Hai said, "We know that what we've done is inconsiderable, but better do something than nothing. "The more we earn, the more we share" is the motto of the company. In the upcoming future, we will travel to many other remote areas to share our profits with the community and at the same time to make the brand name "Bolzano" accustomed to more people."