Around 500 workers from Taiwanese garment company Yu Jun in Ho Chi Minh City's District 8 asked authorities for help October 10 after the company's director, Lin Shih Ming, allegedly skipped without paying them their salaries.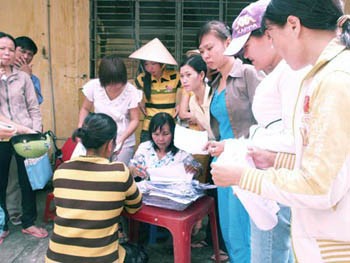 Workers submit a letter conferring power of attorney on the District 8 Labor Union to sue the Taiwanese company on Oct. 10 (Photo: Nguoi Lao Dong)
He had earlier withdrawn VND1 billion (US$56,000) from the company's account at the First Commercial Bank.
The company owes the workers over VND1 billion.
The district authorities have sealed off the company's factories and asked the workers for details of the money the company owes them.
The workers have given the District 8 Labor Union authority of attorney to sue the company.