The project to clean-up the Tan Hoa-Lo Gom Canal, one of the most polluted canals in Ho Chi Minh City, is expected to complete by 2014, according to Le Thanh Liem, director of the City Urban Upgrading Project Management Board and also main investor of the project.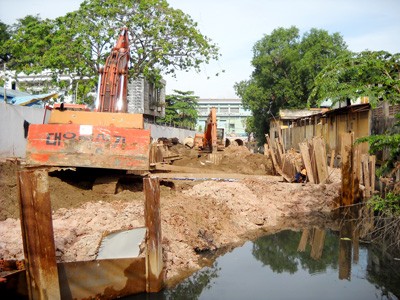 The Tan Hoa-Lo Gom Canal clean-up is expected to complete by 2014 (Photo: SGGP)
Mr. Liem was speaking to the Economics Budget Committee under the City People's Council on Monday. Earlier the committee had inspected the progress of the on-going clean-up project being implemented in Districts 6, 11 and Tan Phu.
He said that 94 percent of the site clearance work had already been done in three districts. Districts 11 and Tan Phu were at the moment removing the electricity and water supply lines while District 6 has yet to do so.
Heavy rains and high tide have caused difficulties for construction workers and flooding in surrounding areas has held up a lot of the project tasks.
The clean-up project will cover dredging and broadening of the canal, building embankments and upgrading roads along the canal over a 7.5 kilometer stretch, from Au Co Street in Tan Phu District till Vo Van Kiet Street in District 6.
The entire project to clean-up the Tan Hoa-Lo Gom Canal is estimated to cost VND2 trillion (US$96 million).
Tan Hoa-Lo Gom is one of the most polluted canals in HCMC. Located in the west of the City, nearly one million very poor people are suffering from the polluted canal.
Nguyen Van Lam, deputy head of the Economics Budget Committee, has proposed to related departments to closely work with the investor to solve difficulties as they come along and help complete the project on schedule, latest by 2014.
On his part, the investor should coordinate with the contractor to drain floodwater from heavy rains and high tide in all areas under the project.
According to Mr. Liem, Ho Chi Minh City is seeking World Bank assistance of US$300 million to build a wastewater treatment plant in Binh Chanh District to tackle any further pollution in the Tan Hoa-Lo Gom Canal.