One of the worst traffic jams was in Truong Son street on January 9, lasting from 11 a.m. to 2 p.m. To avoid missing flights, many passengers left taxi cabs with their luggage to walk to the airport amid noon sunshine.

The Department of Transport recorded 16 traffic jams in May when vehicles traveled at the average speed of only 5 kilometers an hour within 30 minutes.
According to the department, Truong Son is now the single approach road to the airport while vehicles have been increasing highly, raising difficulties in traffic regulation. Parking lots in the airport are unable to meet demand. The number of taxi cabs and cars regularly reaches thousands but there are only about 200 parking places.
HCMC has organized four high quality bus routes to the airport with low passenger number.
The Civil Aviation Authority of Vietnam reported that Tan Son Nhat Airport's capacity was 32.5 million passengers last year, 20 percent beyond plan.
The quick development of aviation industry especially low cost carriers with the growth rate of over 20 percent a year is a remarkable achievement. Still airport, traffic and other technical infrastructure systems have not developed appropriately resulting in overloading.
Tan Son Nhat now has two parallel runways with the distance among them being 365 meters, failing to meet International Civil Aviation Organization (ICAO)'s safety regulations for two aircrafts to take off at the same time. Therefore, Airports Corporation of Vietnam (ACV) said that there is nearly one runway in flight management operations.
In addition, the airport has only 52 aprons comprising 50 for commercial aircrafts and two for emergency cases. Experts said that the airport needs at least 80 new aprons to meet aircrafts' parking demand.
Flooding and noise pollution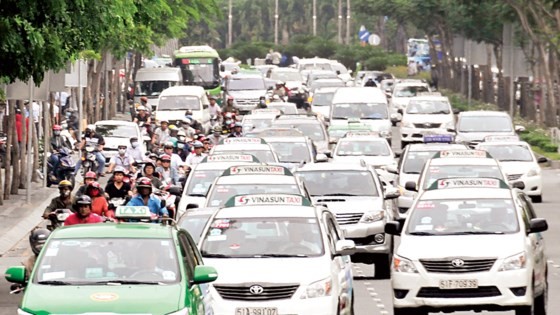 Vehicles follow each other in front of Tan Son Nhat Airport (Photo: SGGP)
Flooding has actually jeopardized flights since mid 2016. The heavy rain on August 26, 2016 submerged aprons No 10, 14, 51 and 56, affecting nearly 70 flights. Of these, two were canceled and 14 were forced to land at nearby airports such as Lien Khuong and Can Tho.
The rain on April 1, 2017 slowed 35 flights of Vietnam Airlines by 30 minutes to two hours.
Director of Tan Son Nhat Airport Dang Tuan Tu said that there are many reasons for the flooding. A41 canal, draining 50 percent of rainwater out from the airport, has been encroached by illegal construction works and jammed with garbage.
Two other drainage directions for the airport comprising Hy Vong and Nhat Ban canals have been blocked with sedimentation.
HCMC's Steering Center for Flood Control Program has dredged Nhat Ban canal from Tan Son Nhat Airport to Nguyen Kiem street. However, the airport will likely be inundated after heavy rains because the canal just undertakes a small part in drainage for the airport.
The dense density of flights taking off and landing at the airport has also a big problem as aircrafts' noise has negatively affected the health of people living in the area.
Dr. Luong Hoai Nam, aviation expert, said that airports were usually built inner or near cities before the 1970s. At that time, they mainly operated small aircrafts with weak engines and low noise. Therefore aircraft noise had not been paid appropriate attention.
Nowadays, everything changes and many aviation organizations, traffic and environment experts have been aware of the noise's harmful effects to people health. Still, a feasible solution to solve the problem for the area near Tan Son Nhat Airport has not been found.