The People's Committee of Tan Tuc town has made a decision to suspend a work it said breaking urban construction order and required water and power cut-off to Xin Chao coffee shop in Binh Chanh district, HCMC.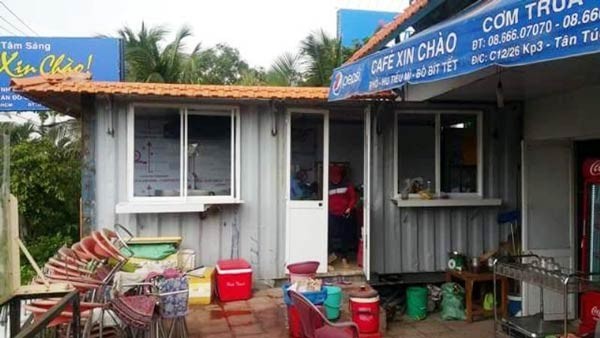 The container which Mr. Tan has purchased and placed near Xin Chao coffee shop (Photo: SGGP)
Owner of the coffee shop Nguyen Van Tan sent petitions to press and authorized agencies for help on August 18.
Mr. Tan said he did not commit any construction violation and the work called violation is in fact a container which he purchased and placed near the coffee shop on August 15 to install shelves and sinks to wash and place dishes, teapots and glass.
Right after transporting the container to the shop, authorized agencies were present to minute the 'violation'.
On the following day, the Tan Tuc town People's Committee chairman made a decision to suspend the 'construction work' and required water and electricity cessation to the shop, Mr. Tan told.
Local leaders asked him to remove the container to other places otherwise they would apply coercive measures and fine him over VND20 million (US$897), he said.
Mr. Tan said he was very anxious about the requirements by local authorities and would send a petition to the People's Committee of Binh Chanh district. If this does not work, it is possible that he must leave for another place to live and do business.
An unnamed representative of the water supply firm in the town told Sai Gon Giai Phong said that it had not cut off water to the shop to verify the requirement by the town People's Committee on August 18.
  
Mr. Nguyen Van Tan has been popularly known in HCMC after the Binh Chanh district Police Department and People's Procuracy wrongly prosecuted him for slow business registration.
The case was exposed by the press afterwards. Wrongdoings by Colonel Nguyen Van Quy, former chief of the district police and Le Thanh Tong, former deputy head of the People's Procuracy were brought out.

Related articles:
Former chief of Binh Chanh police apologizes to coffee shop owner
Criminal charge against coffee shop owner suspended