Tata Group is a large and successful Indian Company. On Friday, the firm's Executive Director, Alan Rosling, and Ho Chi Minh City Chairman, Le Hoang Quan expressed their hope to cooperate in areas where Tata is strong. These strengths lie in industries like software manufacturing, steel production and in the hotel business.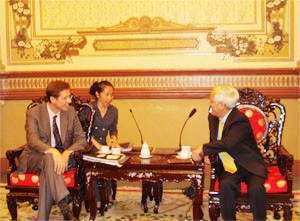 Chairman of the HCMC People's Committee Le Hoang Quan (R) talks with Tata Group's Executive Director, Alan Rosling, on October 13 (Photo: Thuy Hang) 

Alan Rosling was accompanied by leaders of Tata Group's subsidiary companies in a visit to Viet Nam to explore the investment environment and opportunities in Viet Nam. Telecommunications, steel, fertilizer, chemicals and transport are the industries that were represented during the visit.

The Chairman of Ho Chi Minh City's People's Committee briefed the Indian guests on the city's economic development and greatly supported the group's plans for investment into Viet Nam's southern hub.
Previously, Alan Rosling and his entourage had met with the Vietnamese Deputy Prime Minister, Pham Gia Khiem. The meeting had also included ministers and representatives of state-owned and private companies looking for potential investment opportunities in Viet Nam.

Tata Group has 96 companies working in the areas of information technology and communications, manufacturing industry, materials, services, electricity, consumption and chemical products.

In May 2007, Tata Steel, a subsidiary of the Tata Group, signed an agreement with the Viet Nam Steel Corporation (Vinasteel) to build a steel production plant in central Ha Tinh province.

The Indian delegation said that in addition to the steel production, Tata Group was considering investing in the chemical, electrical and telecommunications areas of Viet Nam. This interest was ignited due to the great investment opportunities in the country for both domestic and international companies.