Driver Tran Van Minh Chien of Mai Linh Taxi Company yesterday helped Ms Nguyen Thi Nguyen to successfully deliver a 3.4 kilogram baby boy on the way to a hospital.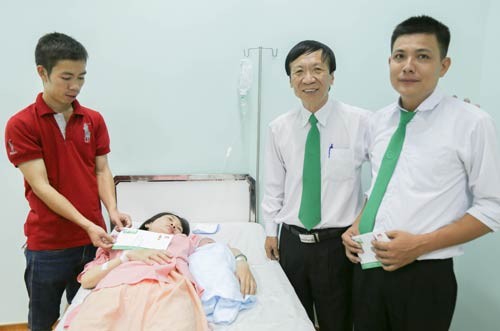 Mai Linh Company representative gives gifts to the mother and taxi driver at the hospital (Photo: SGGP)
Yesterday at 9.30 AM, Ms. Nguyen living in Ho Chi Minh City's Binh Chanh District caught a taxi to go to a maternity hospital in Tan Phu District as she was going to give birth. Her husband drove a motorbike after the taxi as he was carrying things.
However, in the middle of the way, she cried for pain and at last she delivered a 3.4 kilogram baby boy with the help of taxi driver Tran Van Minh Chien.

At the hospital, after checking, doctors said that mother and son were in stable condition.

To praise the driver' action, a representative from Mai Linh Company arrived at the hospital & offered gifts to driver Chien and Ms. Nguyen.