A serious shortage of parking spots in Ho Chi Minh City has pushed taxi drivers to illegally park on streets and sidewalks, despite decree No.34 that doubled fines as of May 20.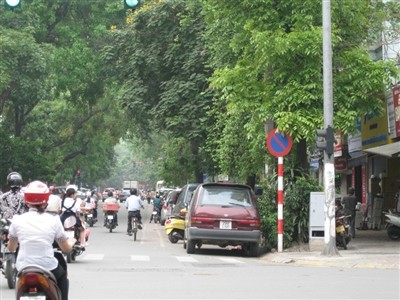 Many drivers who couldn't find a parking space have to park illegally though they know that they would be fined heavily. (Filed photo)
The Ho Chi Minh Taxi Association recently submitted a document to the city Department of Transport convert portions of streets with low traffic flow into temporary parking lots without increasing the traffic density on the altered roads.
The association submitted the document to the city Traffic Police Department and districts people's committee 20 days after implementing road traffic decree No.34 issued by the government, which addressed the issue of inadequate parking spaces and illegal parking.
Under the document, taxi drivers are only fined if they park illegally for over 15 minutes.
Additionally, the document argued that taxi driving licenses should not be revoked for breaking rules on parking and stopping.
According to the association, taxi companies are facing difficulties finding legal places to pick up and drop off customers.
If taxi drivers pick up and drop follow the requests of customers, they break rules on parking and stopping, said the association.
The decree No.34 issued by the government took effect throughout the country on May 20. It imposes fines of VND300,000-500,000 (US$16-26) when taxi drivers pick up or drop off passengers at prohibited areas.
Decree No. 34 also imposes many other penalties on taxi drivers such as fines of VND150,000 (US$7.9) for not using fare meters and VND2.5 million ($132) for not having a fare meter installed, or if the paint colors, logo and phone number on their cab are different from the ones registered by their taxi firm or cooperative.