At a ceremony to honor ten outstanding young citizens held by the city Youth Communist union on January 3, Standing Deputy Secretary of the Party Committee of Ho Chi Minh City Tat Thanh Cang said that the young persons have achieved and contributed greatly in many fields.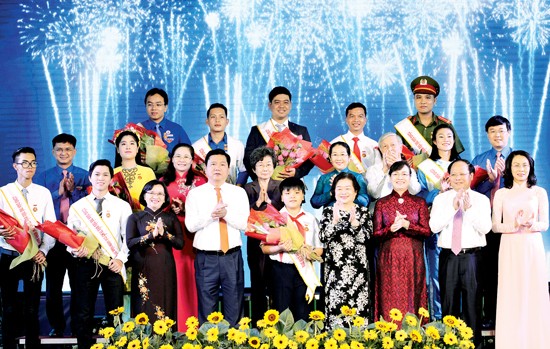 City leaders honor examplary young citizens of Ho Chi Minh City (Photo: SGGP)
Standing Deputy Secretary Tat Thanh Cang added that they are not only good models of devotion, silent sacrifice but also make people trust in next young generation who are ready to volunteer in many fields.

Additionally, young person have had greater contribution to the city sustained development and models of an active generation.

Mr. Cang said that the Young Communist Union must give incentive for young people to develop and finish their duties.

Ten examplary young citizens are Nguyen Trung Hieu, owner of breeding fish Trung Hieu in Trung Lap Ha Commune in Cu Chi District, a good model of rural man who are good in business; Doan Thien Phuc, managing director of Software SetechViet, a typical startup man; Le Thanh Vu, a police officer from the police division in charge of social crimes (PC45); Le Duy Phuc, chief of supervisory control and data acquisition (SCADA) centers; Nguyen Viet Thanh, chief of Mental Ward in social center Binh Duc under the Department of Labor, Invalids and Social Affairs; sixth grader To Huynh Phuc of Tran Dai Nghia School for Gifted Students; Nguyen Xuan Gieng, lecture assistant in the Nature University; Nguyen Lac Ha, a researcher in the Center for Innovative Materials and Architectures, formerly Center for Molecular and Nano-Architecture (INOMAR); student Bui Vu Nguyet Minh in Music Conservatory and athlete Le Tu Chinh from Thogn Nhat Sport Center under the Department of Culture and Sports.

HCMC Party Secretary Dinh La Thang; Truong My Hoa, former Deputy President; first secretary of the Ho Chi Minh Communist Youth Union Central Committee Le Quoc Phong; Nguyen Thi Quyet Tam, chairwoman of the municipal Council Committee; Vo Thi Dung, deputy party secretary attended the ceremony.