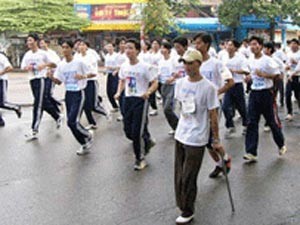 Many Vietnamese are eager to join the Terry Fox charity run to raise fund for the society's construction.
The Consulate General of Canada donated VND 434 million to the Ho Chi Minh City's Center for Cancer and Tumor Therapy at a ceremony held in New World Hotel on March 21.
The money was raised at the tenth annual Ho Chi Minh City Terry Fox run, jointly held by the Consulate General of Canada, the Canadian Chamber of Commerce and the Ho Chi Minh City's Friendship Association on December 3, 2006.
At present, the Canada Consulate General is making a documentary on the run to increase people's awareness of and participation in the event as well as to increase the level of sponsorship.