The Transport Department and District authorities in Ho Chi Minh City declared open several Tet flower markets at various city locations on Monday.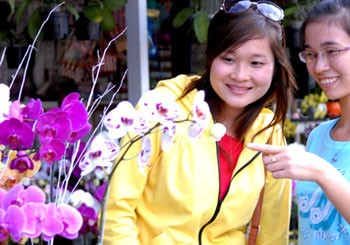 Visitors enjoy a beautiful spray of exotic orchids in a flower market on Thanh Thai Street in District 10 (Photo: SGGP)
A huge variety of flowers and ornamental plants are for sale and on display in the markets, with plants grown in the shape of dragons are drawing the most attention.
There are three large city flower markets at 23/9 Park, Le Van Tam Park in District 1 and Gia Dinh Park in Go Vap District with over 1,200 stalls.
Besides these larger markets, the city has also permitted districts to hold 56 smaller flower markets, of which for the first time two are being held in Phu Dinh Wharf and in Binh Dong Wharf along the Tau Hu Canal in District 8.
According to the Transport Department, the flower markets will remain open from January 16-22, or from the 23rd- 29th of the 12th lunar month.