Supermarkets in Ho Chi Minh City are operating at full capacity to satisfy customers rushing to purchase essential goods before the onset of Tet (Lunar New Year).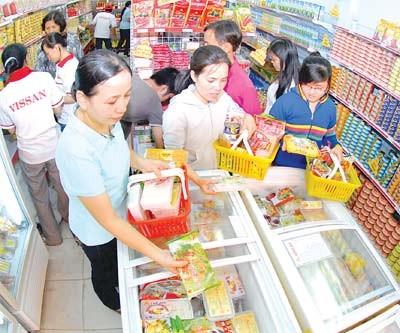 Shopping for Tet at a supermarket in Ho Chi Minh City (Photo: SGGP)
Tet shoppers are flooding supermarkets, especially Co.op Mart, Big C and Metro.

Since last weekend the number has soared and often one sees long queues at the cash counters. Sales have increased by a whopping 40 to 50 per cent as compared to a normal day.

Sales of commodities like fresh food, vegetables and fruits are expected to surge sharply around 27th to 30th of the last month of lunar year (Jan. 30 – Feb. 2 on the solar calendar).

90 percent of Tet goods sold in supermarkets are made domestically because of their affordable prices and beautiful designs.

Sweets and biscuits imported from Malaysia, Indonesia and Thailand have sold more in supermarkets this year than those imported from France and Denmark.

According to a director of a supermarket, this could be attributed to an import duty tax cut on sweets from ASEAN countries.

While supermarkets are seeing an increased sale of Tet goods, the traditional market unfortunately is facing a sharp drop in sales.

People are showing a preference for shopping in supermarkets than in traditional markets because of high-quality goods, stable prices and bargain discount sales.

Prices have remained steady in supermarkets while they have risen unexpectedly in the retail shops and markets.

Duong Thi Quynh Trang, PR director of Big C supermarket, said Big C supermarkets will maintain a steady price on dried and fresh foods as well as other essential items.

Ms. Trang disclosed that to ensure a stability in prices before, during and after Tet, Big C had begun to stock Tet goods from as early as October, 2010. The supermarket now has abundant stocks to meet with the Tet demand.

Nguyen Thanh Nhan, deputy director of Saigon Co.op, was assured that there would not be any shortage of Tet goods or a price hike at Co.op Mart supermarkets till the end of March as his company had stocked goods for Tet worth VND1.2 trillion.

Local suppliers of meat, poultry and eggs like Vissan, Huynh Gia Huynh De, Ba Huan, Sanmigue and Phu An Sinh have pledged not to raise prices and ensured sufficient supplies of their products.

Co.op Mart supermarkets are even offering a discount of VND1, 000 per 10 eggs and 7-15 percent discount on many fresh and processed foods since January 23.

Co.op Mart supermarkets have also planned to stay open longer and increase the number of cash counters to cope with the crowds of Tet shoppers.

The supermarket has readied a 6,000 square meter warehouse in Binh Duong Province to store vegetables, fruits and processed and frozen foods, besides adding 100 more trucks to transport their goods.

To prevent any undue price hike on goods during and after the festival, Co.op Mart supermarkets will remain open on the first day of the Lunar New Year, while Big C supermarkets will remain open on the third day.