The 10th Ho Chi Minh City Women Congress for 2016 - 2021 tenure officially opened on October 18.
The conference was attendance of 486 representatives, including Vice State President Dang Thi Ngoc Thinh, Secretary of the HCM City's Party Committee Dinh La Thang, President of the Vietnamese Women's Union Nguyen Thi Thu Ha, local authorities' leaders, Vietnamese Heroic Mothers and typical women in the city.
The HCM City Party Secretary honored outstanding contribution of Vietnamese women in Ho Chi Minh City and nationwide in building and protecting the country, hoping that Vietnamese women will continue contributing in the development of social, political and economic sectors and there will be more and more female leaders, businesses and scientists.

On this occasion, he presented a certificate of merit to the municipal Vietnam Women's Union (VWU).

Chairman of the municipal People's Committtee Nguyen Thanh Phong also handed over VND100 billion (US$4.3 million) to the VWU. The money aims to support its members for their trade and production.

Ms. To Thi Bich Chau was re-elected as Chairperson of the HCMC Women's Union for 2016 - 2021 tenure.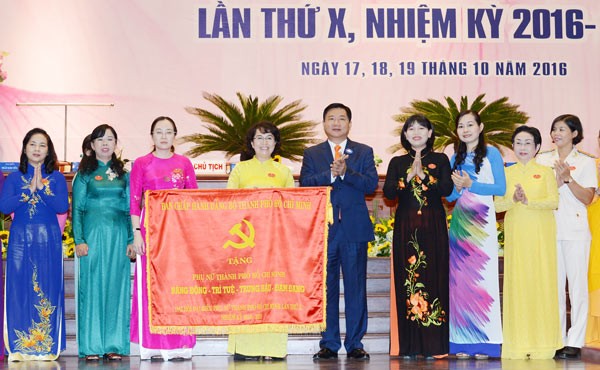 Secretary of the HCM City's Party Committee Dinh La Thang presents a certificate of merit to the municipal Vietnam Women's Union (VWU) at the congress. (Photo: Sggp)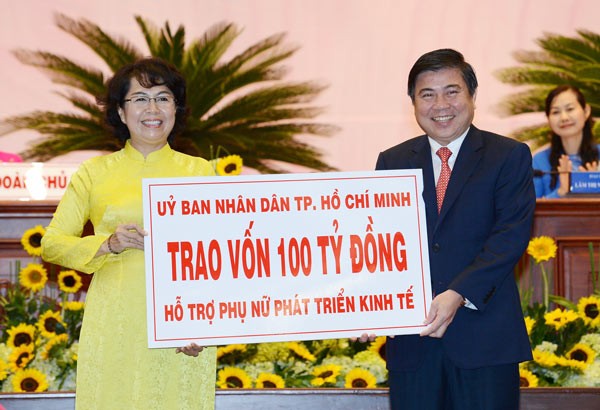 Chairman of the municipal People's Committtee Nguyen Thanh Phong hands over VND100 billion (US$4.3 million) to the VWU. (Photo: Sggp)