The water gushing from the basement of the Pacific building in Nguyen Thi Minh Khai Street has done more than bring down the Southern Institute for Social Sciences next door and some of the Pacific's half-built shell itself.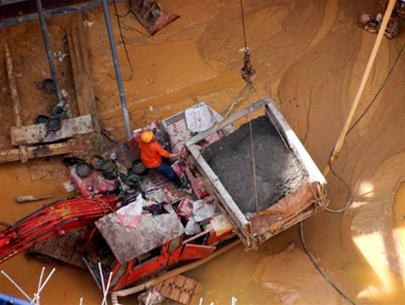 Workers dig the basement of the Pacific building. (Photo: Tuoi Tre)
All the buildings that border the construction site are threatened as the water makes its way into every underground nook and cranny in the immediate neighborhood.
In an urgent report to the Ho Chi Minh City People's Committee, deputy director Nguyen Van Hiep of the Construction Department says 600 cubic meters of water is coming out of the Pacific's basement every day, and no-one has come up with a solution.
Until they do, the nearby buildings must be considered at risk.
"If this water continues flowing out, it will have a serious effect on the entire area," Mr. Hiep says in his report.
His department wants the Pacific's owner and the construction department's Saigon Quality Control Company to call in the groundwater experts and fix the problem pronto.
"Such a large amount of water indicates that this artesian aquifer is extremely powerful," says Mr. Tran Quang Nghiep, director of the construction department's Consulting and Inspection Company.
"As the water gushes out, it removes unconsolidated materials like sand from between the rock strata, and that spells big trouble.
"What we need to do is somehow filter the water to prevent this loose stuff escaping. Otherwise big gaps will appear between the underground layers and cause the ground to sink, bringing down any other buildings that are standing there."
Mr. Nghiep says the most urgent task is to build a wall around the construction site to keep the water contained.
One of the buildings most at risk is the nearby two-storey office of the Department of Foreign Affairs, where a sharp and long crack has opened up in the toilets.
The employees are sticking to their normal work schedule but are understandably nervous, and the Construction Department wants to see them moved out as soon as possible.
Underground water is a common problem with multi-basement levels that go down deep into the earth, an official well versed in such matters points out. The builders must be ready at all times to handle situations like the one at the Pacific.