An eight-day event in Ho Chi Minh City titled "For Agent Orange/Dioxin Victims" raised funds and collected signatures to support dioxin victims and featured writing contests on the pain caused by the dioxin.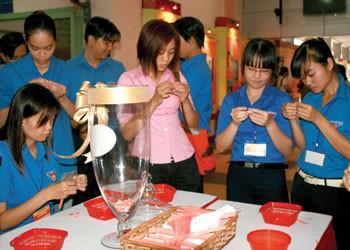 Young people are folding lucky paper stars for AO victims.
Held at the Youth Cultural House from August 2 to 10, it attracted thousands of kind hearts.
Many young people were moved by a photo exhibition titled "Where is my beautiful life?" showing the plight of AO victims, and realized that the loss and pain of the war that ended 34 years ago has yet to go away.
"Although I never experienced the war, the exhibition gave me an opportunity to thoroughly understand the misery caused by the war. Therefore, we should open our hearts to help those unlucky and disadvantaged people to relieve their pain," Phuong Vy, a member of the Green Shirt Club, said.
"I really admire the victims' optimism. Their life goes on despite the pain," Trinh Hoang Kim Tu, a third year student at the HCMC University of Medicine and Pharmacy, said.
"Try your utmost! The effect of Agent Orange is so serious. No words can describe it," Japanese photographer Yasufumi Murayama said.
He has made around 20 trips to the North country to learn about war victims and recorded their stories for an international audience.
Murayama and his compatriot Nishimura Yoichi recently co-operated with the city's War Remnants Museum to hold the "Pains of Vietnam War" photo exhibition.
Statistics show that 70 percent of the families of AO victims are poor. More than 22 percent of families have three victims or more.
Many people gave birth to deformed children who are in need of society's care and attention.
The event was organized by the Ho Chi Minh City Association of Agent Orange Victims, GazeFi Events Company, and B.E.E Design Company.