Vice Director of the Department of Transport and Public Works Duong Hong Thanh has submitted a compensation solution to the ban on modified three and four-wheeled motor vehicles to the city government, a source told Sai Gon Giai Phong.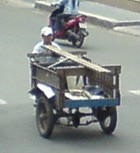 Xe ba gac (pedicabs or modified three-wheeled vehicles) have been destined to be totally outlawed
There are two options for owners. Under the first option, registered vehicles and garbage trucks can apply for loans at an interest rate of 6 percent when purchasing a replacement vehicle.
One hundred motorcycles will be purchased for VND15 million (US$930) and given to poor people who make a living by driving three- or four- wheeled vehicles. Others would receive VND5 million (US$310) or VND3 million (US$185) to pay the cost of attending a driver training course.
This option is expected to cost this city about VND50 billion (US$3.1 million) over three years.
Option 2 offers more support for modified motor vehicles, including unregistered vehicles. This option is projected to cost VND83 billion (US$5.1 million) over a three year period.The city and district governments will take primary responsibility for planning and directing the project.
The project's organizing board recommended that the city not ban registered modified three- and four-wheel motor vehicles traveling in the suburbs. In urban areas, such vehicles may travel on the roads only between 10 p.m. and 5 a.m. Districts 1, 3 ,4 ,5 ,6 ,10 ,11, Phu Nhuan, Binh Thanh, Tan Binh and part of Go Vap are classified as urban.
The progress is carried out until end of December 2009.