At least three workers were dead and five others were injured when a scaffolding collapsed on July 10 at the construction site of the Mapletree Business Center on Nguyen Van Linh boulevard in Ho Chi Minh City.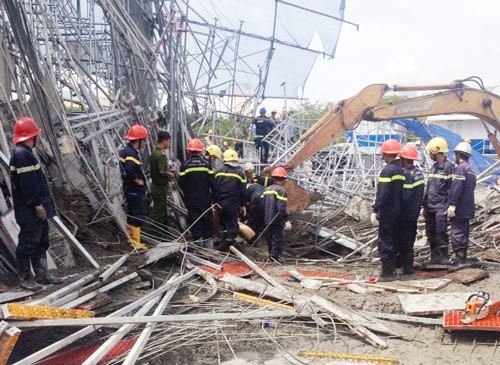 The body of the last victim of scaffolding collapse was found this morning (Photo: SGGP)
The body of last victim were found and removed from the site this morning.

One injuried worker was in stable condition and discharged from the hospital while the remaining were being treated.
Some workers of the construction said that the work was delayed one day because of heavy rains and they had just begun the work only one hour before the accident happened.
Soon after the accident, safe guards of the construction informed the district government to seek help. Police forces and specific vehicles arrived in the spot in an effort to take the stuck victims out of the collapse.
Three ambulance vehicles rushed to the scene to take the injured workers to Viet Phap hospital.
To facilitate rescue work, one lane of Nguyen Van Linh Boulevard was closed this morning, causing a heavy traffic jam. Several hours after the accident, all access points to the construction site, in Tan Phong Ward, District 7, were closed.
Director of city's Firefighter Police Department Le Tan Buu said that the scaffolding was crack in the second floor and total area of the collapsed construction was about 1,700 meter squared.
On the same day, chairman of People's Committee of district 7 Le Trong Hieu said that the district gave VND10 million (US$458.5) to families of each dead worker and VND5million (US$229) to each injured worker.
Mr. Ha Phuoc Thang said that construction company also gave VND10 million to slight injured workers and VND20 million (US$917) to seriously injured workers. For dead workers, the constractor supported their relatives' transportation fee and funeral cost.
Construction of the 17-storey office building began last May.