Three men were injured when part of the ceiling on the ground floor of the Caravelle Hotel collapsed on December 6.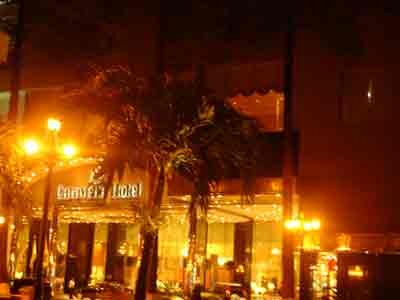 The five-star Caravelle Hotel in downtown Ho Chi Minh City (Photo:U.Phuong)
City fire fighters said a 200-meter section of ceiling fell in a section of the hotel between an employee walkway and the hotel lobby.

Nguyen Thanh Tung, 38, Huynh Tri Hieu, 39 and hotel employee Nguyen Thanh Liem, 35, were injured. Emergency crews had to pull Mr. Liem out from under the ceiling rubble before rushing him to hospital.

The fallen ceiling section is now being guarded. No estimate of the loss has yet been calculated.
Police Chief Le Anh Tuan told Sai Gon Giai Phong newspaper that further investigation will be undertaken into the cause of the accident.

HCM City People's Committee Deputy Standing Chairman Nguyen Thanh Tai, who went to the hotel to oversee the rescue work, said that the cause of the accident would be publicized as soon as possible.