Dr. Vu Thanh Tu Anh, director of research at the Fulbright Economics Teaching Program under the University of Economics in Ho Chi Minh City, suggests three fundamental solutions to the City's problem of shortage of capital for several key traffic projects.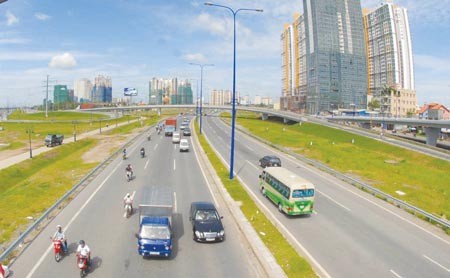 The Hanoi Highway in District 2 of HCMC, the city needs huge capital for infrastructure development by 2015 (Photo: SGGP)
Ho Chi Minh City should continue to propose to the Central Government to lower the rate of revenue which the city submits towards the central budget; improve collection of fees and taxes; and provide more attractive and stable policies to lure investors.
According to the Department of Transport, at present even thought the City calls for more investors for road and bridge projects, none come forward.
HCMC has set a target to build 210 km of road, 50 bridges and tackle flooding areas by 2015, which requires a huge amount of US$3-4 billion per year.
In a recent interview with Sai Gon Giai Phong Newspaper, Dr. Anh said that the City must mobilize capital from various sources to obtain the above objectives and proposed the three above measures to increase capital for infrastructure development.
Firstly, he said that the City must continue to convince the Central Government to increase percentage of City revenue to help increase the budget.
At present, HCMC only retains 23 percent of its revenue, which means that 77 percent goes to the central budget. The amount of 23 percent is far too low for development work.
After being rejected several times, the city must continue and persist in asking the Central Government to accept to the above proposal, Mr. Anh said.
The second solution is to improve collection of various fees and taxes. For instance, the city can issue a tax on property speculation, a serious reason that is pushing real estate prices to prohibitive levels.
Besides these, another revenue source is a toll fee on private automobiles, which occupy most road ways. Many owners are in the high income bracket and can afford a toll fee.
The third measure is to provide more attractive investment policies to lure investors. These policies must be clear and stable as investors have expressed concerns of continuous and sudden fluctuations in policies after projects are underway, which leads to distrust and huge losses.