After 100 years of ferrying people across the Saigon River, the Thu Thiem Ferry boat connecting District 1 and 2 officially closed operations at midnight of December 31, 2011 in Ho Chi Minh City.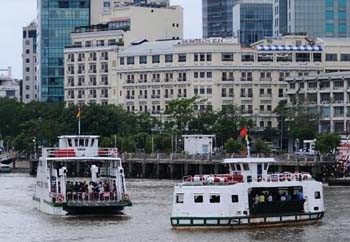 Thu Thiem Ferry officially shut operations on the last day of the year (Photo: Tuoi Tre)
Of late, the number of passengers using the ferry had reduced considerably after the construction of the Thu Thiem Bridge and the Thu Thiem Tunnel, as well as development of the Thu Thiem new urban project.
According to the Department of Transport, the Thu Thiem Ferry employed 44 staff. Once the ferry closes, three of them will work at the Thu Thiem Tunnel, 12 others will move to the wharf in District 1 while the remaining will work on the Cat Lai Ferry.