Thu Thiem Tunnel is expected to open late November after all the progress of construction and preparations for traffic circulation are thoroughly carried through.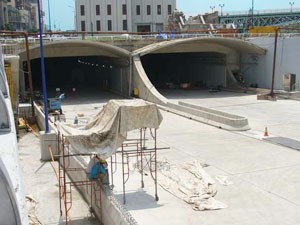 One end of the Thu Thiem Underwater Tunnel in District 1 of Ho Chi Minh City (Photo: Tu An)
The underwater project has been finished 95 percent and expected to totally wrap up late in November, says Luong Minh Phuc, head of the management board of the Urban Traffic Investment and Construction.
There are, however, still some existing problems needing solving until then.
All the road surface's structures, together with technical factors, must be handled.
The whole managing and operating systems of the tunnel will be carefully tested. Not only the machine, but the staff dealing with management and operation, needs thoroughly preparing for their upcoming missions.
To guarantee a tight long-term security for the citizens, all the plans for security and rescue in the tunnel are on the way to round off and the necessary rehearsal is supposed to take place mid October.
Besides, traffic control in the whole East-West Highway, like Thu Thiem Tunnel, will be fully worked-out.
The open ceremony of Thu Thiem Underwater Tunnel, as well as the whole East-West Highway will be held on Nov 22, instead of Vietnamese Independence day as scheduled.
This postponement is meant to give builders more time to strictly tackle technical issues and make sure that there will be no mistake.
When finished, it'll lend a helping hand to the local authorities with relieving congestion in the city and the route to Mekong Delta Region.
Phuc said there was some water penetration found during drowning process of four segments of this immersed tunnel. Yet the issue has been sorted out since many feasible solutions were adopted.
The city's Department of Transport suggested the People's Committee to allow only automobiles and motorbikes to go through the tunnel.
There are totally two lanes for motorbikes and four lanes for automobiles in both sides.
Many tough regulations were also put forth by the Department of Transport to tighten up the traffic safety. 
Motorbikes, for example, can only enter the tunnel from 6 a.m. to 9 p.m. everyday and this time length will be adjusted appropriately then.
All the vehicles that carry toxic or flammable substances or have unsuitable height or capacity mustn't pass the tunnel to ensure absolute security for all the passers-by and vehicles. 
Phuc added that all the passers-by in the tunnel will be charged and the charge station will be located at the end of the tunnel in District 2.
The management of Thu Thiem Tunnel, directly under the city's Department of Transport, is now trying to finish the most workable draft of fee charge and submit to the People's Committee and People's Council.