The Vietnam General Road Department on March 9 proposed to the Ministry of Transport to levy a toll fee on vehicles plying on National Highway 1, which runs parallel to the Ho Chi Minh City-Trung Luong Expressway.
The Department remarked that only recently, after the Ho Chi Minh City-Trung Luong Expressway began collecting toll fees, a large number of vehicles switched to using National Highway 1 to escape paying the fee.
Statistics show that before the Ho Chi Minh City-Trung Luong Expressway began collecting toll fees, there were 6,796 vehicles plying the route every 24 hours.
However, soon after the toll fee was charged the numbers dropped substantially, with most of the traffic moving to the toll free National Highway 1, causing chaos, traffic jams and more pollution.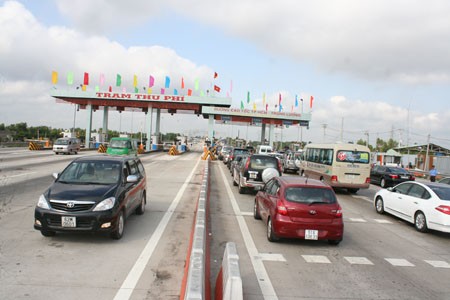 Ho Chi Minh City-Trung Luong Expressway collecting toll fees station
Thus, the Vietnam General Road Department proposed a toll fee of VND15,000-VND100,000 (US$4.8) per entry on vehicles plying Highway 1. It was suggested that the lowest rate be applied for smaller cars, trucks and buses, while higher rates be levied on heavy duty trucks of more than 18 tonne capacity and on 40 feet container trucks.
On an average, the toll fee rates are 1.5 times higher than the basic rates currently applied at other toll stations, with revenue going to the State budget, the department said.
The department has asked the Ministries of Transport and Finance to issue a joint circular to regulate the toll fee, which will be collected at a station in Tan An Town of Long An Province.
The proposed toll fee rates had been set after the department agreed to a proposal by the Cuu Long Transport Infrastructure Management Investment and Development Corporation to apply toll fees on vehicles travelling on the highway.
Therefore, the fee collection on Highway1 is aimed at balancing the volume of traffic between the two roads to increase the traffic on the Expressway, the department said.
Meanwhile, the HCMC Goods Transport Association has petitioned the Prime Minister to lower the toll fee rates on the 61.9-km Ho Chi Minh City –Trung Luong Expressway by up to 50 per cent on trucks.
However, at a press conference held on March 7, Deputy Transport Minister Nguyen Hong Truong said the toll fee rates applied to the Expressway had been properly calculated based on consideration of similar rates in other countries and on Vietnamese people's income.
"Many transport firms have complained that these rates were too high, but in fact, they are still lower than in a number of countries in the region. In China, for example, the rate is 1 Yuan (VND2,500) per km," Truong said.