Nguyen Huu Tin, Deputy Chairman of the People's Committee in Ho Chi Minh City, on Monday listened to a report on implementing a toll fee on cars plying in the city centre, and instructed the Department of Transport to organise a public opinion poll.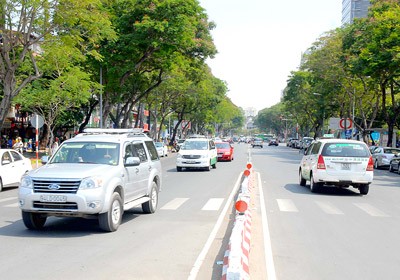 Cars plying on Le Loi Street in District 1 of HCMC will be charged a toll fee in future (Photo: SGGP)
After the Innovative Technology Development Corporation (ITD) presented their report, Mr. Tin instructed the Department of Transport to examine and organise a poll before implementing toll fee on cars.
Lam Thieu Quan, director-general of ITD, said that the city now has about 500,000 automobiles and five million motorcycles, accounting to 80 per cent of the total number of vehicles in the city.
Although automobiles account for five per cent of the total number of vehicles, they are still using 55 per cent of road space and carry only about 10 per cent of passengers.
Meanwhile, motorcycles are using 40 per cent of road space and transporting 80 per cent of passengers per day.
With the growth rate showing 50,000-60,000 cars a year, the numbers of automobiles in the city are expected to reach 800,000 by 2018.
Hence, toll collection will encourage car drivers to change their route and ply on toll free roads; not drive aimlessly in city centre areas any more; not travel unnecessarily during rush hours; and try commuting via other means of transport.
If the project is implemented, toll rates will be VND30,000 for a 4-7 seater vehicle and VND50,000 for trucks and buses. Toll fee will apply from 6am-8pm everyday, except holidays and weekends.
ITD Company plans to set up 35 toll stations in areas surrounding Districts 1 and 3, where drivers will have to pay to enter but not for exiting.
Cars will be installed with on-board units (OBU), a device that helps the computer system at toll stations to identify cars and directly charge fee via drivers' bank accounts.
Total capital for the project is estimated at VND1.2 trillion (US$57 million). Of this, VND1 trillion will be to equip devices and will take two years for the investor to recover capital.
ITD proposed that the city People's Committee implement the project in BTO pattern (build-transfer-operate).
Stations will be installed within six months and put in pilot operation in the next three months before an official run of the plan.
The project aims to reduce traffic jams and environmental pollution from exhaust fumes from vehicles and supplement income for the city budget.
The Department of Transport will report their findings of a public poll to the city People's Council and social and political organisations, before implementing the project.