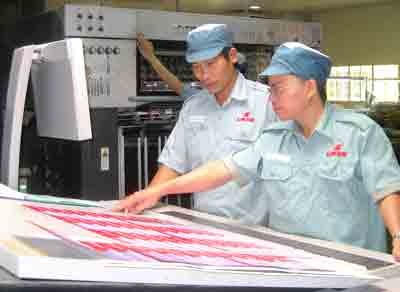 Le Duc Duc, a passionate workaholic (Photo: SGGP)
The Ho Chi Minh City Federation of Labor Unions and Sai Gon Giai Phong newspaper presented the 11th Ton Duc Thang Prize to outstanding entrepreneurs in a ceremony held in the HCMC Conference Hall on Friday, attended by municipal officials, organizations and businesses.

Le Duc Duc, one of the winners, is a friendly, modest and passionate young man. After graduating as a chemistry student from the HCMC General University in 1993, he joined the Liksin Corporation.
Three years later, he was promoted as foreman and then head of the technology and quality control department, before becoming deputy director of the Liksin Paper Printing & Packaging department.
He went on to become the vice chairman of the Research and Development Committee in Liksin, secretary of the HCM Communist Youth Union in Liksin and member of the Communist Party in Liksin.
Despite his busy work load and umpteen responsibilities within the company, he was still able to create many useful inventions that saved billions of dong for the corporation.
He recalls, "In 2009, I faced a huge challenge in the market. I began research on an offset printing method to create a faded effect on the surface of packages. Knowing that success in this would give the company an edge in the market and greatly enhance the quality of products, I poured my heart into the research study. It paid off as we were able to save around VND1.1 billion per year (approx. US$53,400) with the new product as well as receive more customer satisfaction."
His other suggestion to the company was to use Primer covering in tubes to shorten printing time on the 5-color UV machine, cutting 50 percent of manufacturing time and reducing labor cost, increasing company profits by VND750 million ($36,400).
More the 400 workers and 100 foremen have worked under his supervision in the company and his only wish is to pass down his theoretical and practical skills and experiences to the younger generation.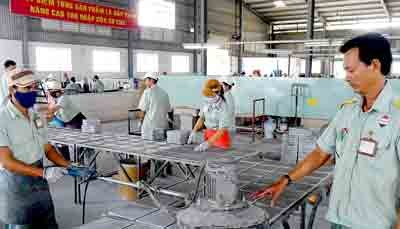 Pham Tan Hung believes love for your work is good for the soul (Photo: SGGP)
Another winner, Pham Tan Hung applied for a job as a porter in the Dong Tam Group, after fulfilling military service in 1991. Hung had a much disciplined style of working, having been trained as a soldier.
As an ordinary worker, he tried to improve his skills and knowledge which helped him in becoming a foreman, then a manager later. He was transferred to the Binh Chanh branch of the company in 2006, continuing to create innovative products, all highly appreciated by his company.
He helped create roll tile mounts, which brought in VND5 million profits per month (US$243) for the company. He upgraded the glue spraying container for tiles, making it more cost effective by saving VND8 million per month on its cost.
He suggested replacing the current oil spraying system for tile manufacturing, which caused high pollution and waste, with a compressed gas spraying system that not only enhanced quality but also reduced pollution and oil waste, helping save the company VND300 million per year (about $14,560).

He described his efforts as a realistic concern for his environment, colleagues and a passion for work which came straight from the heart.

Le Van Tao, yet another winner, is deputy director of the technical department at the Cholimex Food Company, which is an established brand in frozen foods and dressings. However, it faces a cash crunch and hence unable to invest in upgrading the company.
Last year, Le Van Tao along with his team designed an extracting and pouring machine for chilly sauce. At that time chilly sauce had to be mixed manually in Vietnam. Foreign machines cost around US$55,800, a very high expense.
Tao was convinced he could make a similar machine at a lower cost and worked day and night with two of his colleagues. 4 months later, his efforts paid off and the first ever Vietnamese-made extracting and pouring machine was ready.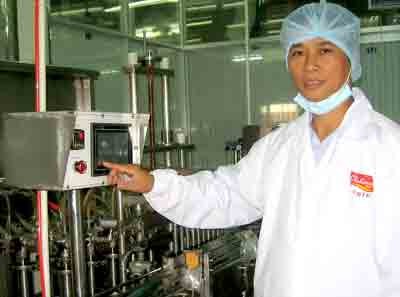 Le Van Tao believes in thinking from the heart (Photo: SGGP)
The most wonderful part was that it was very cost effective for the company at VND900 million (around $43,700). All manual mixing of chilly sauce was then moved to this machine, saving labor costs.
The machine is easy to assemble and higher levels of food sanitation can now be maintained. It can also produce more than one bottle at a time as it has greater capacity that the foreign branded machine.
Tao's others inventions include the propulsive power system for a new factory, which saved more than VND500 million ($24,300) for the company.

Reflecting back on his career, he said his motivation came from witnessing colleagues working laboriously. Working from the heart and helping others was greater than any reward or prize, he believes.