Torrential rainfall that lasted more than two hours submerged several roads and residential areas in suburban districts of Ho Chi Minh City on Monday afternoon.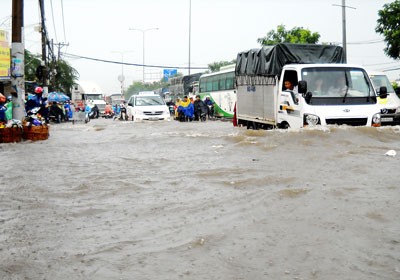 Highway 1A in Thu Duc District of HCMC was badly flooded after a heavy downpour on July 9 (Photo: SGGP)
The heavy rainfall flooded Highway 13, Highway 1A, To Ngoc Van, Go Dua Streets and Road 43 in Thu Duc District, La xuan Oai and Do Xuan Hop in District 9 and several other roads under 30-50cm of floodwater.
Road 43 was inundated under half a meter of water, causing a number of vehicles to suffer engine failure.
Similar conditions prevailed in Go Dua Street in Tam Binh Ward and Highway 1A in Thu Duc District.
The flooding caused traffic jams for at least two hours along Highway 1A in Thu Duc District, which is a regular route for many container-lorries and trucks.
Floodwaters flowed into several houses in Linh Dong Ward of Thu Duc District. Thu Duc wholesale market was also flooded, causing damage to many perishable commodities.
According to the Steering Center of the Urban Flood Control Program in HCMC, the rain caused flooding along 16 roads.
The worst hit areas were Highway 1A, Road 43 and Go Dua Street in Thu Duc District, areas near Tan Hoa-Lo Gom Canal in Districts 11, Tan Phu and Tan Binh.
These areas were the worst flooded as they are located in low-lying areas and the local drainage system was flowing at full capacity.