Several trees were uprooted in Ho Chi Minh City on Wednesday afternoon after torrential rainfall accompanied with strong winds lashed the city, causing flooding and traffic chaos along many streets.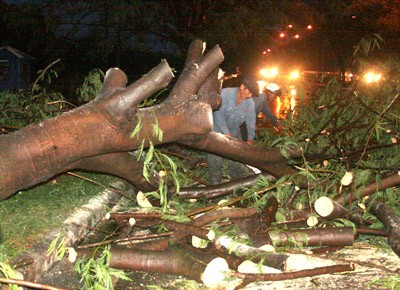 Workers clear a fallen tree on Nguyen Van Linh Highway in Binh Chanh District in HCMC on May 23 (Photo: SGGP)
Fallen trees could be seen along the East West Highway, Tran Quang Nghi Street in Binh Chanh District, along Nguyen Van Linh Highway in District 8 and in Binh Chanh District. Several trees fell across roads, blocking off traffic.
Workers moved quickly to clear the fallen trees from roads, but traffic jams still occurred on many streets and on the Nguyen Van Linh Highway until almost 8pm.
Torrential rainfall inundated Kinh Duong Vuong Street in Binh Tay District, Pham Hung, Tung Thien Vuong and Trinh Quang Nghi in District 8, and Ba Hom in District 6, causing traffic jams at some spots.
Besides, the accompanying strong wind blew off the roofs of nine houses in District 8 and Binh Chanh District.
In related news, a flash flood in Lung Muoi Hamlet in Quang Thanh Commune of Nguyen Binh District in the northern province of Cao Bang on the same day left one dead and one missing.
They were a father and his 9-year-old son, whose house was swept away by the gushing floodwaters. The father was found dead amongst a branch of a tree, 500 metres from his house, while the young boy is still reported missing.
Local authorities continue to search for the missing boy.