Head of the Committee for Cultural and Social Affairs Thi Thi Tuyet Nhung proposed tougher penalties on violators of food safety regulation to curb the unhygienic food in the district 1.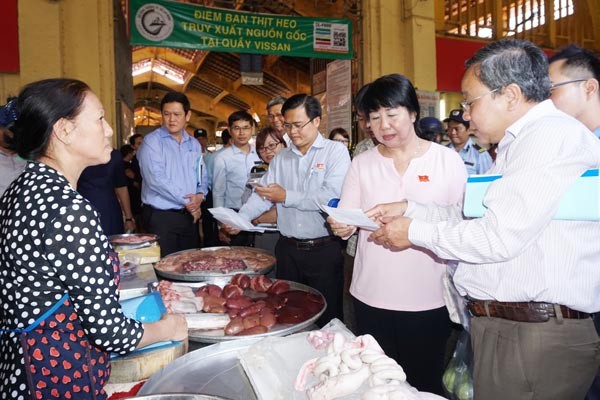 Delegators from the Committee of Cultural and Social Affairs conduct test on food in Ben Thanh Market (Photo: SGGP)
At a meeting with People's Committee in district 1 on February 16 upon food safety, Ms. Nhung expected the district administration to develop what its has achieved as well as increase information of food safety not only in traditional markets but also in street eateries and food caterers for industrial parks ands schools.

Deputy Chairwoman of people's committee in district 1 Nguyen Thi Thu Huong said that in 2015 and 2016, the district has implemented the guideline of food safety by organizing month-long action campaign of the matter by varieties of activities aiming to raise people's awareness of food safety.
The district cleared the makeshift markets including markets in Ton That Dam Street, in an alley in Nguyen Van Trang Street and in sidewalk in Co Giang Street. The district concentrated on developing supermarkets. Inspectors conducted quick tests to ensure fresh food sold in markets.

Before, the Committee for Cultural and Social Affairs under the municipal People Council's also liaised with managers of Ben Thanh Market in District. The committee delegators inspected the origin of food and vegetables in the market. Ms. Nhung hoped that the market management board will enhance traders' awareness of safe food and provide training to staffs, shop assistants to win customers and travelers' trust.