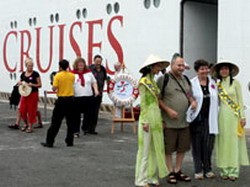 Photo: TN
Vietnam
will find it hard put to meet its target of welcoming five million tourists this year as the world economic crisis cramps international travel, experts say.
The Vietnam Authority of Tourism (VNAT) reports that international tourist arrivals in the first ten months of this year were 3.6million, an increase of 3.5 percent compared to the same period in 2007. The tourists were mostly from China, US, Thailand, Malaysia and Singapore.
The numbers of Western and Japanese tourists were less than last year's owing to the global crisis, VNAT said.
In HCMC, 2.4 million international tourists have visited so far this year, with October figures reading about 200,000. The HCMC tourism department has said that the target of three million international tourists for the year might not be reached.