The People's Council of Ho Chi Minh City proposes to ask the Vietnam Joint Stock Commercial Bank of Industry and Trade (Vietinbank) to look elsewhere for locating their new office building, making room for a high school expansion.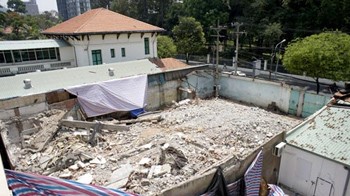 The disputed property site on 112 Nguyen Thi Minh Khai Street in District 3 (Photo: Tuoi Tre)
Pham Van Dong, Head of the Economic-Budget Department chaired a meeting yesterday to resolve the issue of moving the construction of the bank building from 112 Nguyen Thi Minh Khai Street, adjacent to Le Quy Don High School in District 3.
Representatives of the Department of Education and Training, the high school and some other departments, attended the meeting.
Representatives at the meeting agreed that the city People's Council should forward necessary documents to the city People's Committee to allow the  property at 112 Nguyen Thi Minh Khai to be handed over to the Le Quy Don School. The school has expansion plans and is currently awaiting approval from authorities.
The 440.5 square meters of the above land had been marked for expansion of the school premises. However, on March 30, leaders of the city People's Committee found the city budget inadequate for the school project and hence offered the land to the bank to build their office building.
Should the city People's Committee allow the school project to continue, it will have to revoke their decision and compensate the bank.
According to the District 3 People's Committee, the city People's Committee had instructed them to clear the site for the school expansion project. The district has already completed assessing compensation rates and submitted the same to the city compensation assessment council for approval. Unfortunately, the city People's Committee has also leased the land to Vietinbank for a period of 50 years.
Le Quy Don High School, established 130 years ago is the oldest school, not only in HCMC but also in all of the Indochina area. The school was built in the classic French colonial architectural style and boasts of famous alumni.