A trade cooperation program between Ho Chi Minh City and 20 provinces in the southern region has been the main reason behind the success of the price subsidized program, said Nguyen Thi Hong, deputy chairwoman of the HCMC People's Committee.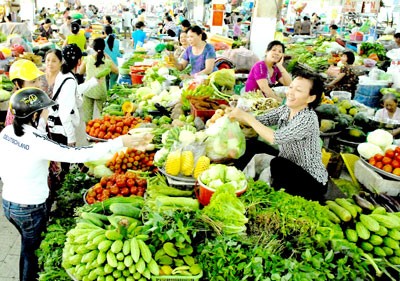 An Dong Market in District 5 of HCMC (Photo: SGGP)
According to Ms. Hong, the trade cooperation program is a platform for businesses to broaden their scope of investment, advance towards a closed distribution system, cut down on middle men and offer affordable prices.
The program is being conducted for the last one year by the Department of Industry and Trade in HCMC, seven southeastern provinces and 13 Mekong Delta provinces.
Le Ngoc Dao, deputy director of the Department of Industry and Trade in HCMC, said the City has determined the strength of each province to build a supply and demand chain for farm produce and food items for City markets.
Livestock and chicken meat is being provided by Dong Nai, Ba Ria-Vung Tau, Long An, Tien Giang, Tay Ninh, Binh Duong and Binh Phuoc Provinces. Eggs are been supplied by Dong Nai, Long An, Tien Giang, Kien Giang, An Giang and Dong Thap Provinces. Vegetables are coming from Lam Dong, Long An, Tien Giang and HCMC.
HCMC has also determined the ability of each province to help source consumer commodities.
 
According to calculations made by provinces, the volume of commodities supplied to HCMC account for 50 percent of their general output. Dong Nai and Lam Dong Provinces provide the City with 70 percent of their total output.
HCMC is consuming an average of 1,000-1,100 tons of commodities and 3-3.5 million chicken eggs a day. Of these, the City can only meet 15-20 percent of the demand, with the remaining volume coming from provinces or imports.
So far businesses with distribution systems in HCMC like Saigon Co.op, Vinatex and Fahasa have built their own supermarkets in the above 20 provinces and working to develop chains of convenient stores also.
Provinces have played an important role in supplying commodities to HCMC, the largest market to consume farm produce in Vietnam.
Nguyen Phuoc Trung, deputy director of the Department of Agriculture and Rural Development in HCMC, said that the trade cooperation program has gained a lot in strength.
However HCMC has still not found optimal solutions to help businesses to purchase farm produce from provinces to process for domestic markets or for exports. Provinces have also not pointed out how they will help City businesses to develop sustainably, he said.