Although traders across Ho Chi Minh City are now well stocked with Tet goods, unlike earlier years, the price subsidised commodities in stores and supermarkets have not seen sufficient number of buyers so far.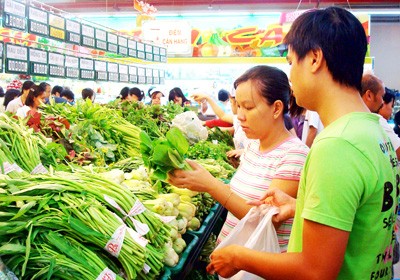 Buyers at a supermarket in Ho Chi Minh City (Photo: SGGP)
Sai Gon Giai Phong Newspaper reporters toured some markets in Ho Chi Minh City such as Ben Thanh, An Dong and Binh Tay and saw an abundant supply of essential goods stocked, much more than on any normal day.
Nonetheless it is difficult to predict how the market will fare during the Tet holiday season.  Having learnt from experience in previous years, traders this year are well prepared much in advance to face the huge demand during the coming Tet season.
Hoa, a cloth trader in Binh Tay market said she is expecting to sell huge volumes by year end. She has received many orders to send goods to various provinces.
An Dong market is well stocked to supply markets during Tet, and traders are expecting increased sales this year.
Tet Lunar New Year 2012 is coming earlier than usual; hence wholesalers have been busy stacking Tet goods for the last few months. However, they remain a worried lot as there are still very few buyers.
Van Duc Muoi, general director of Vissan said that their company had spent more than VND958 billion (US$21 million) on stocking goods for Tet. Vissan has also reserved more than 40,000 pigs for sale during the festive season.
However, with only one month left before Tet, Muoi expressed concern as the number of buyers had increased by only 5 percent.
The City supermarkets have also launched many promotional programs to attract buyers.
Nguyen Thanh Nhan, deputy general director of Saigon Co-op said it is difficult to sell goods without promotional programs. He said that currently, purchasing power has increased 50 percent compared to the beginning of December.
Dao Sy Long, deputy head of the Tan Dinh Market Management Board in District 1, said the market management board had strengthened control of the market and directed traders to list and register their prices. Besides price management, the board was also focused on checking the origin of products.
Subsidised goods for Tet in Ho Chi Minh City will account for 30-40 percent of market goods this year, an increase of 20 percent compared to the previous year.  List of subsidised goods include rice, sugar, cooking oil, pork, poultry, eggs, processed food, vegetables, sea food, medicines and powdered milk. There are now 22 enterprises participating in the price subsidised program with an aggregate capital of VND412 billion ($19.6 million).
Meanwhile, enterprises in Hanoi have financed more than VND2 trillion ($95.2 million) worth of essential goods for the coming Tet holiday season.
Hanoi has allocated 665 depots for the sale of subsidised goods,   double than last year.