The number of traffic accidents, congestion is escalating in "hot spots" such as entrance to port , airport, city downtown and main streets in HCM City, said traffic officials at a meeting on traffic safety in the city yesterday.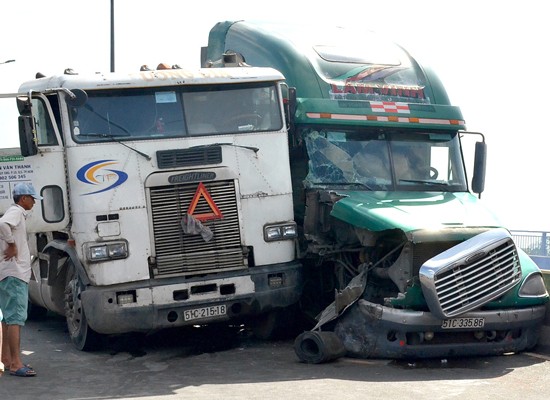 Two trucks collide each other in Phu My Bridge in HCMC/s District 2 (Photo: SGGP)
People can list several causes of traffic accidents and congestion yet no basic solution for the matter is feasible.
Specifically, there were 2,598 traffic accidents in the first seven months of the year, killing 465 people and wounding 1,739 others, reported Mr. Nguyen Ngoc Tuong, deputy head of the city's Traffic Safety Board.
Compared to the same period last year, the number of accidents increased by 50 or accounting for 2.8 percent, while the death toll soared by 53 with 15.45 percent and the number of injured people decreased by 52 people. Traffic related deaths reduced in seven districts out of 24 while number of dead people killed on the roadways surged in 15 of 24 districts.
Mr.  Tuong added not only traffic accidents but also gridlock increased, especially since June during the rush hours in entrance into the city and entrance into Cat Lai Port and Tan Son Nhat Airport.
The major cause is an increase of immigrant people and registered private vehicles with 180 cars and 850 motorbikes registering daily. Expansion of streets is limited. Control over vehicles in and out Cat Lai was very slow with an average of 5 - 10 minutes per vehicle. Worse, traffic accidents and sudden fires caused a long line of vehicle on streets
At the meeting, Chairman of the city People's Committee Nguyen Thanh Phong  said that he wanted to hear resolution rather than causes of traffic accidents and congestion.
Colonel Tran Duc Tai, deputy director of the city Police, proposed synchronous solutions to handle the risk of motorbike races of the young, curb congestion as soon as possible, handling partial roadblocks into Cat Lai Port and the central reservations on major streets where traffic jams usually happen.
Mr. Tai also proposed to extend time for trucks to enter major districts to serve construction sites.
Meeting participants pointed out many resolutions to deal with the matter, including awareness of knowledge on traffic law and behavior of traffic participants.
Chairman Phong  concluded that traffic accidents and congestion are alarming with more deaths and injured people  in increasing fatal crashes. He asked district chairpersons to adopt measures to improve the problem.
Mr. Phong strongly criticized authorities in districts with many traffic accidents and jams. He asked grass-roots governments where pavement and road encroachment to handle the problem because Illegal parking areas and street-side vendors are encroaching on pavement and roads in HCMC, causing traffic congestion, particularly on narrow streets.