Traffic accidents decreased by 30% and traffic congestions also dropped by 92% over the same period last year in Ho Chi Minh City, said the city's Transport Department on Friday.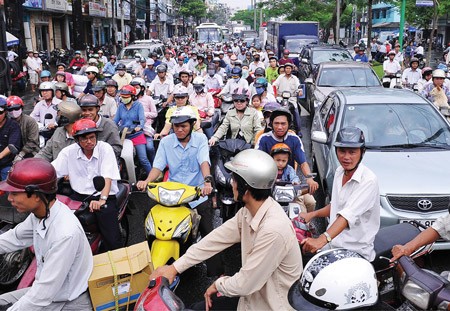 A traffic jam on Hong Bang Street, District 5 two years ago. Traffic congestion dropped out sharply in Ho Chi Minh City in the first half this year
The department issued a report on traffic accidents and congestions in the first half of the year saying that travel and transport in the city is positively changed.
Although a 30% decrease in road accidents there were 336 traffic accidents, killing 300 people and injured 143 in the period.
The report says that road accidents dropped remarkably on the 1A National Highway and Ha Noi Highway where accidents often occurred several years ago.
2012 is named as The Year of Traffic Safety and locals are calling on people to comply with the traffic safety law when travelling on the road.
Those who break the law have harshly been fined by the police.
Road accidents are a major killer in Vietnam with 14,000 deaths every year.
There were only two traffic congestions in the city in the period, cutting down by 23 over the period last year.
The decrease in traffic congestions was mostly resulted from strong improvement of city's road system including street expansion, building more new roads and bridges.
Ho Chi Minh City and Hanoi are two cities with worst traffic jams in the country, esp. during rush hour.