Ho Chi Minh City reported a year on year reduction in the number of traffic accidents as well as dead toll and injured people last year. However traffic jam was getting worse, the city failed to obtain its target to eliminate 'black spots' in traffic accidents and saw a rise of six new spots.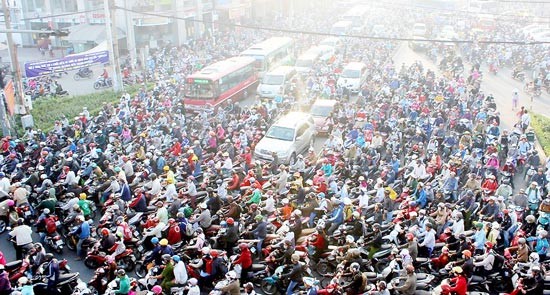 A traffic jam at Thu Duc crossroads in HCMC last year (Photo: SGGP)
The statement was made by the HCMC Traffic Safety Committee at a conference yesterday.
Deputy head of the committee Nguyen Ngoc Tuong said that traffic jam occurred more regularly especially after fires, heavy rains and high tides. Efforts to tackle overloading and illegal passenger coaches faced with difficulties. Bus service had yet to meet residents' demand.
According to the committee, the condition in which young drivers gathered at the same place and drove their vehicles along some streets still took place causing public disorder.
This year, the city People's Committee has determined to further reduce traffic accidents as well as casualties, ease traffic jam, prevent longer than half-an-hour congestions from occurring and raise public awareness of abiding by the traffic law.
Deputy chairman of the National Traffic Safety Committee Khuat Viet Hung said HCMC should invest more in traffic infrastructure, boost the progress of road broadening at 'bottlenecks' where traffic jams have regularly occurred, develop the public passenger transport system and renew old buses.
Last year the city saw a year on year decrease of 626 traffic accidents to 3,712, killing 703 and injuring 3,300 people, down 24 and 727 victims respectively.  Of the total, road accidents counted 3,694 cases with 693 dead and 3,301 injured.
Four serious accidents took place killing 11 people and hurting nine others.
Authorized agencies handled 635,000 traffic violators and issued penalties of VND222 billion (US$9.9 million).
The city had 52,345 newly registered automobiles and 251,845 motorbikes in 2015.