Traffic jam has been reported increasing in many streets inner Ho Chi Minh City and entry spots for recent days.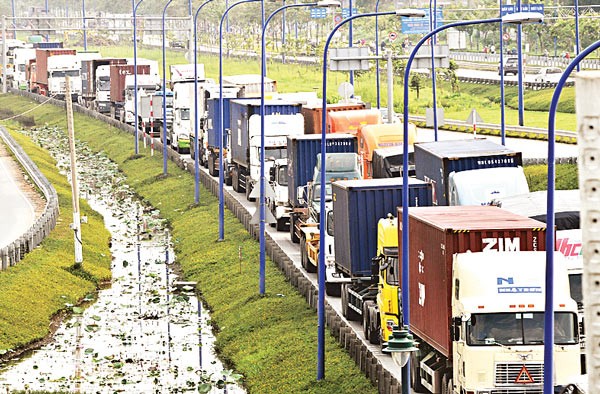 Trucks line up in Cat Lai Crossroads, HCMC on September 8 (Photo: SGGP)
Hoang Hoa Tham and Lang Cha Ca steel flyovers and broadened Luy Ban Bich street have recently been built and improved traffic condition in Cong Hoa, Truong Chinh and Cach Mang Thang 8 streets in district 12, Tan Binh and Tan Phu. However it has not lengthened and traffic jam has recently recurred worse than before.
At dawn, vehicle influx starts heading towards the center area in An Suong Crossroads, Phan Van Hon, Nguyen Van Qua, Pham Van Bach and Tay Thanh streets from districts Cu Chi, Hoc Mon, Binh Chanh, Go Vap, Tan Binh, Tan Phu and 12. Vehicles have to inch at Cong Hoa-Truong Chinh crossroads.
The most regular congested section is at Ba Queo crossroads in Tan Phu and Tan Binh districts because Truong Chinh street has yet to be broadened in this area, where has many crossroads and schools. Sometimes, traffic flow was paralyzed with ten of buses following one another in the roadbed.
Mr. Tran Minh Duc from Binh Chanh said it take 45-60 minutes to travel only four kilometers from Tan Ky-Tan Quy to Lang Cha Ca flyover in Tan Binh district.
Traffic standstill during peak hours has also been alarming in Nguyen Van Linh-Nguyen Huu Tho crossroads, Nguyen Luong Bang, Nguyen Thi Thap and Kenh Te bridge in district 7. Badly jam spots comprise areas in front of Lotte Mart and Ton Duc Thang University.
Similar condition has also occurred daily in bridges spanning from district 4 to 8 and district 1 to 5 such as Nguyen Tri Phuong, Chanh Hung, Chu Y and Kenh Xang.
According to the Department of Transport, traffic jam has been caused by the quickly growing number of vehicles after a slew of new buildings were built in the city.
The department has intensified traffic segregation to ease the congestion and proposed police force, chairmen of district people's committees together with activists to regulate traffic at frequently congested spots.
Transport expert Dr. Pham Sanh said the department should inspect, do surveys and calculate vehicle flows in main streets to better traffic separation.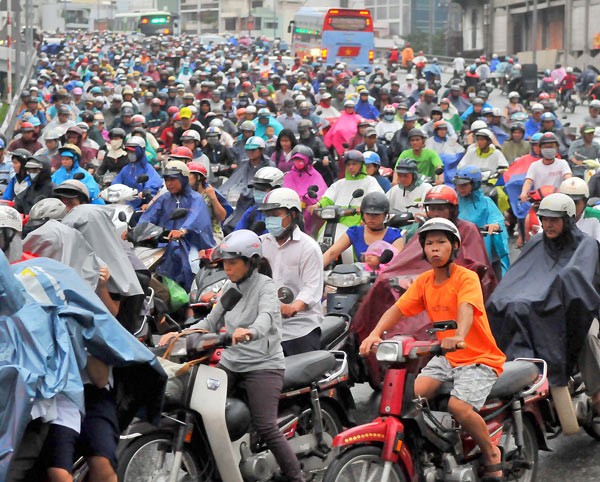 Traffic jam in Cao Xuan Duc Street, district 8, HCMC in peak hour on September 8 (Photo: SGGP)
It should also broaden intersections and crack down on those transgressing road bed and sides for parking or trading in hot spots of traffic jam like Truong Chinh and Ba Queo. Bus routes should be changed in this area to reduce traffic pressure in peak time, he suggested.
The Urban Traffic Management Zone No.1 in HCMC said that the Truong Chinh broadening project at the crossroads of Ba Queo and Tan Ky-Tan Quy has not been implemented because the area is under site clearance and compensation phase of the second metro route project--Ben Thanh-Tham Luong.
Other road upgrading projects have faced capital shortage due to economic difficulties, hindering social investment mobilization in traffic infrastructure.
An official from the Urban Traffic Management Zone No.1 said the expanding project of the Nguyen Van Linh-Nguyen Huu Tho intersection has had investor and will start under BOT (Build-Operate-Transfer) form next year.