Members of the HCMC People's Council yesterday expressed concern that worsening traffic jam will hinder the city's plan to develop into a smart city and improve living standard while bus subsidization program has not worked to help solve the issue as the number passengers has been reducing.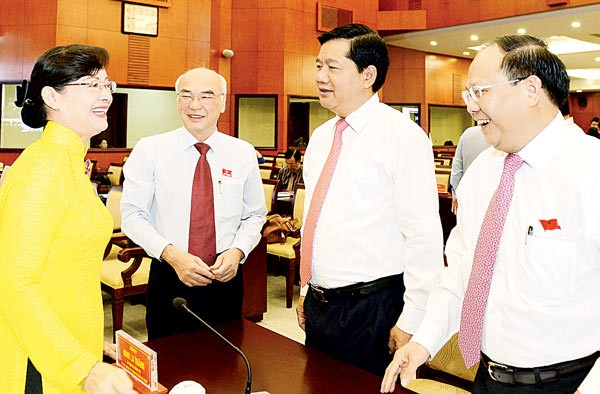 Secretary of the HCMC Party Committee Dinh La Thang (R, 2nd) talks to leaders of HCMC at the third session of the 9th People's Council on December 6 (Photo: SGGP)
They were speaking at the 9th council's third session chaired by chairwoman Nguyen Thi Quyet Tam and attended by secretary of the city Party Committee Dinh La Thang.
According to Deputy Tran Quang Thang, HCMC is developing into a smart city with good living standard but traffic jam has been worsening. He wondered how the situation will be in the next three years and proposed the city to efficiently develop public transport including buses to tackle the issue.
Ms. Vo Thi Ngoc Thuy said that the number of bus passengers has been reducing and queried if the Department of Transport has learnt about reasons and found solutions.
She suggested rationalizing the method of bus fare subsidization by directly providing the subsidy to bus passengers instead of bus companies as present.
Director of the Department of Transport Bui Xuan Cuong said that since early this year the city saw an increase of 60,000 automobiles totaling 600,000 and 272,000 motorbikes while road area increased less than 2 percent.
Mr. Cuong said that the department has implemented seven groups of solutions for instance construction of new bridges, intersections and traffic segregation to improve bus service quality. The department has installed cameras on 1,200 buses and opened training courses to improve service skills for 6,000 bus employees.
Next year the city will buy an extra of 1,000 compressed natural gas buses which are environmentally friendly. The department is expected to launch an online bus ticket sale system to improve the efficiency of the bus fare subsidization program in May.
Dissatisfying with the director's answer, chairwoman Nguyen Thi Quyet Tam asked him to provide specific statistics on the number of subsidized buses now, how many routes they operate, how many passengers they carry a day, a month and a year to show the program's efficiency.
The agency has kept promising for years to renew the subsidization method but it has still paid businesses in subsidy instead of bus commuters while the number of passengers has been fewer year by year, she noted.
Someday budget difficulties would force the city to reconsider continuing or stopping the program which costs trillion of dong every year, she said.

Ms. Tam affirmed that traffic jam is the number one congestion of the city. Its clearance will help solve many other issues.
She pointed out that traffic jam has been worsening although the city has spent largely on upgrading traffic system. Traffic congestion has reduced in short term in some areas where roads or bridges are built or broadened and recurred a year after they were opened to traffic.
The city's traffic jam solving has not been sustainable because of problems in state management method in this field, she commented.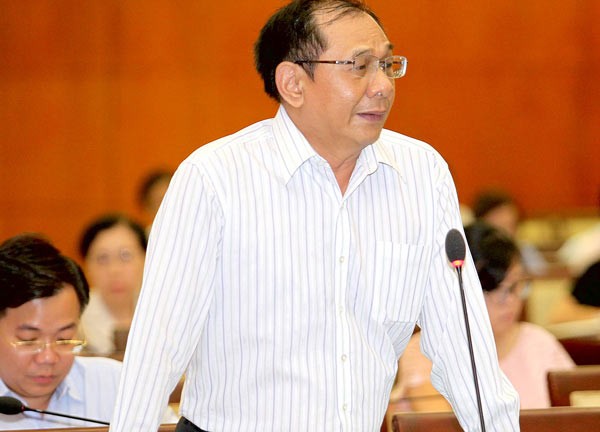 Deputy Tran Quang Thang states at a discussion group at the session (Photo: SGGP)
Reporting at the session, chairman of the city People's Committee Nguyen Thanh Phong said that this year the city obtained nine out of 12 norms. Two unobtainable targets include clean water supply and industrial wastewater treatment.
Provincial Governance and Public Administration Performance Index (PAPI), Provincial Competitiveness Index (PCI) and Public Administration Reform Index (PAR INDEX) have not been ranked.
Gross Regional Domestic Product (GRDP) grew 8.05 percent over the same period last year and equaled 1.28 times of the country GDP growth rate, said Mr. Phong.
Besides the above achievements, the city's business environment and economic competitiveness has failed to meet requirements. Growth has mainly based on the contribution of capital and labor factors. Science and technology application has yet to bring high effectiveness.
Some economic norms posted a lower than last year growth rates during the same period such as the total retail sales of goods, service, industry and export import turnover.
A number of projects have run behind schedule; traffic jam, flooding, environmental pollution, diseases, food safety have still affected the life of citizens. Criminal, social order, traffic safety have been complicated.
Many social resources have not been exploited. Mental, financial and human resources from citizens, domestically and abroad private economic sector are very huge but have yet to be promoted. Administration of all levels has in fact not played tectonic role.
Delegates said that socioeconomic development measures put forward for next year too vague.
Specifically, deputy Nguyen Minh Quang worried about the feasibility of the city's GRDP target of 8.4 to 8.7 percent in 2017 because measures have not been made clear.
 
Deputy Le Truong Hai Hieu proposed the city to focus on nurturing strong revenue sources, promote its strengths to increase service income to account for 80 percent of the city's revenue with breakthrough ways of doing.